Well, while BSB has been dark for a while, as major life changes has thrust themselves upon our fearless Believers, but we may be back up and running here, just in time to mourn a crushing end to the Phillies season and a throw the last bit of dirt on a nearly as demoralizing season for the Eagles.  But, first, let us catch up on some less depressing business, as we will unveil the results of our 2011 MLB Awards balloting.  We had seven really good, knowledgeable, and relatively objective submissions for this year's awards, so we have a nice collection of opinions depicted in these awards efforts on these awards.  So, without further ado, let's get to it, starting with…
(NOTE: Points are 5 for 1st-place vote, 4 for 2nd, etc.  The two numbers in parentheses indicate, first, the number of ballots on which the player appeared, followed by the number of first-place votes they received, if any.)
Most Valuable Player – National League
Matt Kemp – 31 (7/5)
Despite a very disappointing year out in LA, Matt Kemp put up a season for the ages, coming up 1 HR shy of 40/40.  He also had a legitimate shot at a Triple Crown up until the season's final weekend.  Also, for all of you condescending, weak-minded Sabermetric-obsessed people who discount any analysis that doesn't include WAR, Kemp blew away the competition in that stat, as he was, according to baseball-reference, worth 10 wins to the Dodgers this year (a full 2.3 wins better than anyone else in the league).  Kemp received 5 of the 7 first-place votes and appeared on all 7 ballots.

Ryan Braun – 27 (7/1)
While Kemp seemed to dominate the voting, he did not win by the landslide you might expect, as another 30-30 guy, Ryan Braun finished a somewhat close second place, despite only receiving a single first-place vote.  Unlike Kemp, who did receive a 4th-place vote, Braun was in the top 3 on every ballot.  Braun's first-place vote came from BSB's own, Doogan, who had Kemp 2nd.
Prince Fielder – 18 (7)
Braun's teammate, Prince Fielder and his .415 OBP, finished 3rd on our list, as he also appeared on all 5 ballots, though did not receive a single first-place vote.
Troy Tulowitzki – 9 (4)
Tulo did receive a second-place vote from Yours Truly, but I am (and always will be) quite partial to anyone who plays the most important position on the diamond.
Justin Upton – 9 (4)
The surprise team of the National League was the Diamondbacks, so it's no surprise to see their offensive leader make a top 5 MVP showing.
Albert Pujols – 8 (4/1)
King Albert did enough to draw a 1st-place vote, but not enough to get any higher than 5th-place on any of the other 6 ballots.  While I think he has suffered from the Shaq ailment (should have been MVP every single year if not for boredom of the voters), but this year was an admitted down year for the Best Player of All-Time.
Joey Votto – 3 (2)
The defending MVP had, quietly, another outstanding year and was actually put ahead of Prince Fielder on Bry's ballot.
Lance Berkman – 1
What a comeback year for the Puma.  It's a nasty little secret, but he actually had a better year than that teammate of his that finished 6th on this list.
Most Valuable Player – American League
Jose Bautista – 24 (6/3)
In a very close vote, the winner goes to the only guy on the list that doesn't play in New York, Boston, or Detroit.  Though he was left completely off one ballot, and received first-place votes on fewer than half, Jose Bautista wins our vote by the same margin that Matt Kemp won the NL award.  Bautista led the league in home runs and had an OBP just shy of .450.  Wow.
Jacoby Ellsbury – 20 (7/1)
The only AL player to appear on all 7 MVP ballots, Ellsbury just had too many 4th- and 5th-place votes to challenge Bautista.  Ellsbury sure did put up some incredible numbers this year, finishing with a .928 OPS, 39 stolen bases, and stellar defense in centerfield.
Miguel Cabrera – 20 (6/1)
Another incredible season was put in by the Tigers firstbaseman, Miguel Cabrera, who won the batting title, with 30 HRs, 48 doubles, and 108 BBs.  Again, BSB's Doogan took the contrarian route, taking Cabrera (and Ellsbury) over Bautista here.
Justin Verlander – 17 (5/1)
One of the game's most timeless (and meaningless) debates:  can a pitcher be the Most Valuable Player?  Well, if this is any indication, the majority of voters here believe that not only should a pitcher be eligible, but that this pitcher was worthy of at least mentioning on the list.  He even received a first-place vote from loyal reader, GregDoc.  For the record, I am an ardent opponent (with misplaced and irrational passion) of pitchers being voted MVP and would have left Verlander off my list if I had to make 20 choices.
Curtis Granderson – 7 (2/1)
If you listen to talk radio in the Big Apple, you would think that Granderson is the guy to beat in this race.  But, apparently, 5 of the 7 voters here disagree so much that he didn't even make their ballots.  In Granderson's defense (and RyanDoc's, who voted him #1), I think runs scored is a very underrated statistic (yes, may the Sabermetic holier-than-thous strike me down), and Granderson had 15 more runs scored than anyone else in the league.
Dustin Pedroia – 6 (3)
With a 3rd- (from me), a 4th-, and a 5th-place vote, the diminutive Red Sox secondbaseman finishes in 6th place on our list.  Need we be reminded that he plays elite defense at a premium position?  Or, do we all feel the backlash against the guy for already winning one?  Or, am I just way too protective of middle infielders?
Adrian Gonzalez – 5 (3)
If September had never happened, A-Gon might win this award going away.  But, the Red Sox collapse and the media backlash against its media darling put a black mark upon an otherwise excellent inaugural season in Beantown for Mr. Gonzalez.
Robinson Cano – 4 (1)
While I would absolutely take Robinson Cano ahead of all but a handful of players in the league to start my franchise with, I am not so sure his 2011 season justified his receiving a 2nd-place vote here.  But, that being said, it is nice to see a middle-infielder with a TON of talent get some due.  Lord knows, he needs it playing in the media exile of New York City.
Cy Young Award – National League
Roy Halladay – 31 (7/4)
Before we start screaming about the homerism of this blog, let us stop and think for a second about all the outside factors that could work against a starting pitcher, from a statistical standpoint.  The most prominent of things that could be underlying factors to inflating pitchers' stats are ballpark effects and level of competition.  And, in an argument between Halladay and the Dodgers' Clayton Kershaw, it is rather inarguable that both of these factors work for Kershaw and against Halladay.  For this reason, I (and, presumably the other 3 that went this way, including Doogan) voted Halladay #1.
Clayton Kershaw – 29 (7/3)
Don't worry, Clayton, you are probably going to win the actual award because everyone loves a good story and, most of all, because people get fatigued with back-to-back winners.  That being said, Kershaw is very deserving, as he had a lights-out season, including being one of only 2 starters (Cole Hamels, the other) to have a WHIP under 1.00.
Cliff Lee – 18 (6)
Lost in the brilliance that is Roy Halladay and the subpar April, Cliff Lee had a pretty incredible season for the Phightins'.  I just wish he was able to hold a 4-0 lead in his biggest start of the year.  Lee was left off of one ballot, but that ballot only felt three pitchers were deserving of votes.
Ian Kennedy – 14 (7)
Kennedy – the real surprise in the desert – appeared on all 7 ballots, most likely because of his 21 wins and sparkling 2.88 ERA.
Cole Hamels – 9 (5)
Hamels and his sub-1.00 WHIP made a pretty strong case for being the best #3 starter in the history of baseball (and this from a man who is still enamored by the Maddux-Glavine-Smoltz era Braves teams).  It's hard to believe that Hamels finished 14-9 on the season.
Chris Carpenter – 1
Not sure if this was a bit of a "lifetime achievement" vote or a "valuable to his team" kind of vote from longtime BSB reader, Boot, but I definitely respect it.
Matt Cain – 1
I had both Cain and Kennedy as my #5 choices because I think that, despite not receiving the recognition or run support, Cain may have had the better year.  Either way, the numbers are too similar to speak so highly of Kennedy and not at all of Cain.
Cy Young Award – American League
 Justin Verlander – 35 (7/7)
Our only unanimous winner of any award is, to no one's surprise, Justin Verlander.  Verlander was dominant in any way you want to judge it, be it "traditionally" or "Sabermetrically."  This one was easy – everyone else was just playing for second-place.
Jered Weaver – 22 (6)
A pretty solid season in SoCal for the laid-back Weaver, who was inked for a team-friendly long-term deal because he loves the way of life out there.  Don't mistake it, though, he's a bulldog on the mound.  One ballot only had Verlander, so Weaver did make every other ballot.
James Shields – 15 (5)
While he will never live up to his absurd nickname of "Big Game James" (there is only one Big Game James, and he played a different sport), Shields was sensational this year, including an amazing FOUR compete-game shutouts.  Shields was on 5 ballots, but the ones he missed only had Verlander and Weaver, so he made every ballot with more than 2 names.
C.C. Sabathia – 8 (3)
Unlike the first three, who were on every ballot that went that deep, Sabathia was left off of 2 ballots that filled out 5 names.  Another outstanding year for Carston Charles, who did receive a pair of 3rd-place votes (including mine) and a 4th-place vote from Doogan.
Josh Beckett – 3 (2)
The bottom four were sort of also-rans in this race, but it is worth mentioning because they all had outstanding years, including the ever loveable Josh Beckett.  I will refrain from making a Popeye's Chicken joke here, for fear of overkill.
C.J. Wilson – 3 (2)
Introducing the next vastly overpaid starting pitcher:  C.J. Wilson.  But, hey, he picked a great year to have a great year.
Dan Haren – 2 (2)
On a list of a outstanding pitchers that do (or are about to) get plenty of public recognition, Dan Haren doesn't quite fit.  Quite possibly the most underrated pitcher in a decade, Haren continues to dazzle without nearly enough fanfare, and he put up yet another quietly excellent season in 2011.
Felix Hernandez – 1
At 14-14, it was the greatest follow-up season for this award's defending champ…but, then again, he was only 13-12 last year when he won it.  However, the other numbers weren't nearly as overwhelming this year.  That being said, it's hard to quibble with a guy this good.
Rookie of the Year – National League
Craig Kimbrel – 26 (7/4)
In the closest race of any award, the Braves closer, Craig Kimbrel takes the BSB NL Rookie of the Year award, ny the narrowest of margins over two others.  Like everyone, I did have Kimbrel on my ballot (in 4th-place, though), but I am not too keen on voting closers for any award (other the the Rolaids Relief Man Award) because the guy only pitched 77 innings.  Would you vote a guy MVP if he only logged 306 plate appearances?  Well, Kimbrel only faced 306 hitters this year.  I wish his numbers weren't so staggering or I would have left him off completely, and the award would have went to…
Vance Worley – 25 (6/2)
Out of nowhere came a mohawked, bespectacled kid to break an all-time Phillies record when the team won 14 consecutive games started by the Vanimal (I don't remember who held the record, but I think he just went by the moniker "Lefty").  Worley received two first-place votes and was in the top 2 on 5 of the 7 ballots.  But, being left off of one probably cost him the award.
Freddie Freeman – 25 (7/1)
The third horse in the three-horse race was Braves firstbaseman, Freddie Freeman, who put together a really solid rookie campaign (.795 OPS over 635 PAs).  Freeman, who appeared on all 7 ballots, only received 1 first-place vote, which slips him into 3rd place on this tally, despite being a single point behind the winner.
Brandon Beachy – 10 (3)
And, the Braves make it 3 of the top 4 on this list, as starting pitcher Brandon Beachy finishes fourth.  Only appearing on 3 ballots, Beachy was bolstered by a pair of 2nd-place votes, including mine.  Just to reiterate, Beachy pitched twice as many innings as Kimbrel – so, again, who was more valuable to his team?
Josh Collmenter – 7 (4)
Quite a season for the converted reliever out in the desert.  Kirk Gibson's got these guys playing to their full potentials, huh?  Collmenter appeared on more than half of the ballots.
Cory Luebke – 5 (2)
While possibly aided by the expansive PetCo Park, there isn't much negative to say about the season turned in by Padres rookie starter, Cory Luebke (1.07 WHIP, 3.29 ERA over 139.2 IP).
Lucas Duda – 2 (2)
Apparently a favorite of the website, Lucas Duda received 5th-place votes from both of the BSB writers.
Danny Espinosa – 1
While struggling, at times, during his rookie season, I have to commend RyanDoc for putting Espinosa on his ballot, as the kid showed real flashes this year, and was a pretty important piece to a Nationals team that nearly finished .500.
Rookie of the Year – American League
Jeremy Hellickson – 28 (7/3)
Despite receiving fewer than half of the first-place votes, this Tampa starter won this award by a considerable margin.  Appearing in the top 3 on all 7 ballots made this an easy choice.  Yet another star Tampa pitcher on the horizon – how do they do it?
Eric Hosmer – 18 (4/2)
This guy is going to be really good, and may be the cornerstone of a pretty good Royals team in the not-so-distant future.  Hosmer collected 27 doubles and 19 home runs this year, as he looked ready for The Show from day one.
Ivan Nova – 16 (6)
An impressive rookie campaign for the Yanks hurler led to his being chosen as the Bombers #2 starter in the playoffs.  While Nova was very good – that is a bad sign for a team with a $200 million payroll.  Nova appeared on all 6 ballots that submitted more than 2 names.
Mark Trumbo – 15 (5/1)
An interesting finish for the Angels slugging thirdbaseman, as he registered one 1st-, one 2nd-, one 3rd-, one 4th-, and one 5th-place vote among our voters.  And, there can be an argument made that he had a considerably better season (31 doubles, 29 HRs) than our runner-up, Eric Hosmer.
Michael Pineda – 10 (3/1)
If 13-12 can win you the Cy Young while pitching for the Mariners, why can't 9-10 win you the Rookie of the Year in the Great Northwest?  Apparently I am the only one who believes that, as not only was I the only first-place vote Pineda received here, but he only made two other ballots.  At least J agreed with me somewhat, as he had Pineda in second-place, behind only Hellickson.
Jordan Walden – 5 (2)
Apparently Walden's season as a closer, which admittedly wasn't quite as impressive, did not strike people in quite the same way as Kimbrel's did in the NL, as Walden only found himself on two ballots, despite 32 saves and a very low WHIP and ERA.
Dustin Ackley – 3 (2)
The Mariners have a good one in Ackley, who probably came up just a little too late to really make a push for this award.
Desmond Jennings – 2 (1)
Speaking of coming up too late, Jennings was even 100 PAs behind Ackley, but what he did in a little less than half a season was good enough for me to put him #4 on my list…but I was the only one.
Jemile Weeks – 1
Have I mentioned my affinity for middle-infielders?  Well, Weeks played a decent secondbase, stole 22 bags, and hit over .300.  That, to me, is good enough for a spot on my ballot.
Manager of the Year – National League
Kirk Gibson – 17 (6/5)
In a runaway, Kirk Gibson wins this award with 5 first-place votes and appearing on 6 of the 7 ballots.  A well-deserved honor, as Gibson was terrific this year for the D'backs.
Charlie Manuel – 9 (4/1)
People never think that managers on talented teams should win this award, but that makes no sense to me.  Charlie dealt with a ton of adversity and injuries to still guide this team to the best record in baseball and in franchise history.  Give the man his due.
Tony LaRussa (2/1)
A Hall of Famer with a championship as his swan song…not bad.  But, what he may cherish the most is the first-place vote from J in the 2011 BSB awards.  I agreed with my bro, as he also made my list for leading a team that lost a Cy Young-caliber pitcher in spring training to a terrific come-from-behind playoff appearance.
Clint Hurdle – 3 (2)
At one point this season, it looked like they might rename this award after Hurdle for the job he was doing in the 'Burgh.  But, the wheels fell off and they lost 90 games again.  That being said, it looks like he's got the Buckos going in the right direction for the first time…in a very long time.
Ron Roenicke – 2 (2)
Roenicke led his Brewers to 96 wins and a division title.  Yes, he had a nice rotation and a duo of absolute studs in the middle of his lineup, but the team did seem a lot different this year than in th past.  BSB writer, Doogan, was one of the two that tipped his cap to the job Roenicke did this year.
Freddie Gonzalez – 2 (1)
I guess all is not lost on RyanDoc after the Braves collapse, as he recognizes Gonzalez for taking over for a legend and leading a team that is not very talented (at least offensively) to the brink of the playoffs.
Don Mattingly – 1
I can only guess that T-Bone put Mattingly because of the commitment to the team he showed in the face of an unearthly number of distractions all year in LA.  I have to say, I don't fully disagree.  Donny Baseball – in his first year as a ML manager – dealt with more "crap" than anyone else in the game.
Manager of the Year – American League
Joe Maddon – 13 (5/4)
I will save my opinion of Joe Maddon (mostly because he gives enough opinion of himself for the both of us…want to know how smart he is?  Just ask him, he'll be sure to tell you…).  I will say, however, that he probably wouldn't be the first choice of manager is BSB had a baseball team, as the only two voters to leave him off the ballot were Doogan and me.
Jim Leyland – 9 (4/1)
Leyland, Doogan's pick for Manager of the Year, did another terrific job in MoTown, leading the Tigers to an AL Central title, despite a top-heavy roster.
Joe Girardi – 5 (2/1)
See my comments above about Charlie Manuel.  While I don't like him much at all (pretty much for the exact same reasons I don't like Maddon), I think he deals with more pressure, more scrutiny, and more prima donnas than anyone else except maybe Boston.  And, he just keeps on winning.  I know, I know, everyone will cite the ridiculous payroll he's got, but the guy did win 97 games with a rotation of Sabathia, an old washed-up guy, another old washed-up guy, an unheralded rookie, and a $20 million guy with an ERA hovering around 6.00.
Manny Acta – 4 (2/1)
Great to see a good guy like Acta bring some promise to a good sports town like Cleveland.  Acta even got a first-place vote for his efforts this season.
Ron Washington – 3 (2)
A surprisingly low finish for a guy who, I would say, had quite the successful season.
Ned Yost – 1
I guess when the Royals don't finish in last place, someone has to take the credit, right?  Yost may have proven enough to still be around when this team gets good.
Pleasant Surprise – National League
Michael Morse – 10 (4)
Despite not receiving a single first-place vote, Morse is the only one to appear on more than two ballots, and he was on all four that submitted players (some went outside the box on this one).
Lance Berkman – 9 (2/1)

Justin Vogelsong – 7 (2/1)

Jeff Karstens – 6 (2/1)
Matt Kemp – 5 (1/1)
R.A. Dickey – 4 (2)
Javier Vazquez – 4 (1)
Miguel Montero – 3 (2)
Emilio Bonifacio – 1
Johnny Cueto – 1
Pedro Sandoval – 1
Mike Stanton – 1
Shane Victorino – 1
Further, as several people thought outside the box (which we love), I have to mention that the Arizona Diamondbacks received two 1st-place votes and the Pittsburgh Pirates picked up a 2nd-place vote.
Pleasant Surprise – American League
Alex Gordon – 13 (4/1)
An absolutely huge year for the future star of the Royals, Gordon pretty much ran away with this award.
J.J. Hardy – 10 (3/1)
Doug Fister – 9 (2/1)
Bruce Chen – 5 (1/1)
Miguel Cabrera – 5 (2)
Bartolo Colon – 5 (2)
Curtis Granderson – 5 (2)
Alex Avila – 3 (2)
Brandon McCarthy – 3 (1)
James Shields – 3 (1)
Jacoby Ellsbury – 2 (1)
Elvis Andrus – 1
Kyle Farnsworth – 1
Jeff Francoeur – 1
Freddy Garcia – 1
Ian Kinsler – 1
Justin Masterson – 1
And, from our out-of-the-boxers, we have a 1st-place vote for the Tampa Bay Rays and a 2nd-place vote for the Cleveland Indians.  And, my personal favorite is a first-place vote for most pleasant surprise for the collapse of the Boston Red Sox.
Biggest Disappoinment – National League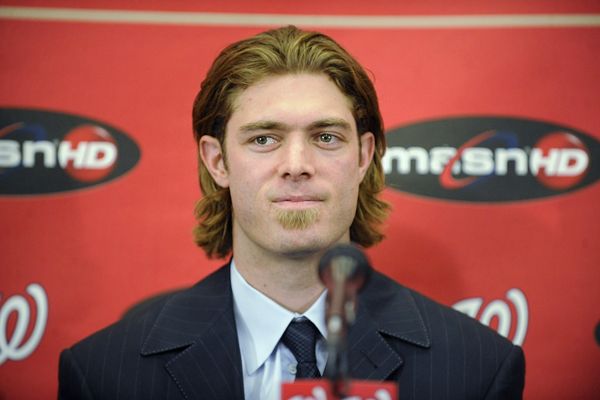 Jayson Werth – 14 (4/1)
On every list that submitted players for this category, the big free agent signing wasn't exactly worth the money.
Hanley Ramirez – 10 (2/2)
The only guy that got multiple first-place votes for this category was the enigmatic (aka…lazy) Marlins shortstop was really bad this year.
Jason Heyward – 4 (2)
David Wright – 4 (1)
Carlos Zambrano – 4 (1)
Ubaldo Jimenez – 3 (2)
Derek Lowe – 3 (2)
Miguel Tejada – 3 (1)
Pedro Alvarez – 1
Jason Bay – 1
Ian Desmond – 1
JA Happ – 1
Casey McGehee – 1
Brett Myers – 1
Ricky Nolasco – 1
Mike Pelfrey – 1
Scott Rolen – 1
Ian Stewart – 1
Drew Stubbs – 1

Edinson Volquez – 1
The collapse of the Atlanta Braves received a first-place vote, while the Diamondbacks bullpen took a second-place vote.  And, again, Boot comes in with my favorite disappointment by pegging the Dodger fans as the National League's biggest disappointment.  And, he makes an eloquent explanation why:
"No, I'm not opposed to them bailing on their sorry excuse for a franchise.  And I'm not even talking about the shameful opening day violence of a few idiots (just imagine what they'd say if that happened in oh, say, Philadelphia?).  No, I'm talking about them booing Kirk Gibson.  Dodger "fans" booed Kirk Gibson!  How quickly they forget!  In contrast, Diamondbacks fans cheered Craig Counsell in the playoffs!  This isn't to overly praise the Diamondback fans – they did the right thing.  But if Diamondback fans know the right way to appreciate Craig Counsell, surely those in LA should know how to treat Gibson."  
Biggest Disappointment – American League
Carl Crawford – 16 (4)
Despite not getting a single first-place vote, the Red Sox high-priced leftfielder was pretty terrible all season.
Adam Dunn – 12 (3/2)
There are really only two numbers that should explain the season that Adam Dunn just submitted to the record books: 

.074

(his slugging percentage against left-handed pitching in 2011) and

15,000,000

(the size of his contract).
Alex Rodriguez – 6 (2/1)
Joe Mauer – 5 (1/1)
Chone Figgins – 4 (3)
J.D. Drew – 4 (2)
John Lackey – 4 (2)
Justin Morneau – 4 (2)
Francisco Liriano – 3 (1)
Magglio Ordonez – 2 (1)
A.J. Burnett – 1
Shin-Soo Choo – 1
Kyle Drabek – 1
Jorge Posada – 1
Grady Sizemore – 1
Ichiro Suzuki – 1
Vernon Wells – 1
The Boston Red Sox did receive a first-place vote in this category, as did the prosecutors in the Roger Clemens trial, which is a fantastic call.
So, that's that.  Thank you to the seven amazing submissions.  Hopefully, this post can take a little bit of your mind off the misery that is Philadelphia sports right now.  Then again…who needs football when we've got TWENTY-FOUR HOURS OF COLLEGE HOOPS TODAY!  Expect some serious college hoops coverage coming up on the blog over the next couple of months, starting this week, when I am going to try and get out some conference previews.