This may sound cheesy or over-dramatic, but, as I sat, last night, thinking about what it means to be a world champion, my entire life went running through my head, all in the context of the Phillies and what they have meant to me since I was old enough to remember.  Times have changed, friends have come and gone,  my interests have ebbed and flowed, but there was always one thing in the background–one theme to every aspect of my life–and that was an undying devotion to the Philadelphia Phillies. 
From the joy of Kim Batiste to the devastation of Joe Carter.  From finishing my spelling homework so I could watch the first 4 innings before bedtime to biking 70 miles for internet while in a completely undeveloped part of West Africa, just to check the Phillies scores to see if they could finish above .500.  At every point, every milestone, every growing pain or heartbreak, at every triumph or failure, the Phillies were right there with me, whether I chose to recognize it or not.  It was a parallel existence, similar to the human development I went through as a person.  They were ever striving to "make it" as a baseball team, just as I was ever striving to "make it" as a person. 
There were touted prospects on one side and the monumental dreams of youth on the other.  There were slumping Aprils and Julys for the Phillies, just as I struggled to find a way in the world.  There were successes and highlights, just as I found successes and highlights.  And, there was always hope–always Spring Training, where all 30 teams were undefeated, when all you had to say was "Who knows?  Maybe this is our year."  And, though the chances were slim and the odds were long, you believed.  You wore the red pinstripes, you recited the starting rotation and tried to convince yourself as to why they could "put it all together." 
There is enough innocence in baseball, just as there is in youth, to make you believe, regardless of where The Sporting News experts picked your team to finish.  It kept you going, kept you believing that one day, one year, just one moment in your life, you can watch your beloved team–which is as much a part of you as anything on earth–collapse in a heap of youthful exuberance and joy.  You could fall to the floor yourself and feel utter triumph, without ever throwing a pitch or swinging a bat.  That regardless of whether you aged 7, 17, 27, or 67, you were immediately tranformed to a euphoric, youthful bliss, ensconced in a real, true, genuine feeling of accompishment, success and complete and utter pride.
There is something to be learned about life through sport–and it is not simply the obvious lessons of the benefits of dedication and hard work or belief in a dream or practice or teamwork–there is a greater lesson.  One that, because of its simplicity and universality, trandscends philosophical eloquence.  It is simply the notion that life is there to be experienced.  That life is there to be lived.  I (and many others who know exactly how I feel right now) lived with the Phillies, every summer of our lives, no matter how many games out of first place they might have been. 
In the end, the games did not matter.  What mattered was the fact that you believed IN the games—just as you believe in yourself.  That you would love this team, these guys, these colors, this notion of togetherness with thousands and thousands of people you have never met, no matter what the circumstances.  And, that you would love yourself no matter how many "errors" you make or how many "runners in scoring position you may leave" during your own personal challenges and struggles.  What matters is that from the losing came strength, and from the winning came clarity.  Each and every hour that I have invested in this silly sport played by people I will never meet has been worthwhile–not because I can puff out my chest and say that my team is the world's champion, but simply because the fact that we are world champions has brought me to this ultimate realization–a realization that this "silly" game is more than just a sport.  It is more than just a game.  It is a part of my soul, a part of my existence.  It is a big part of what makes me me.  And, in the end, I wouldn't have it any other way. 
So, thank you, 2008 Philadelphia Phillies, and all who are involved, but it must be understood that this title, this feeling, this realization is for so many more than the 25 players on this year's roster.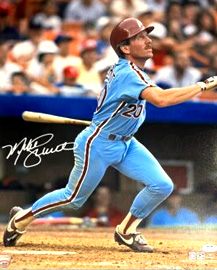 It's for past champions like Mike Schmidt, Steve Carlton, and Tug McGraw.
Pete Rose and Bob Boone.
It's for Greg "The Bull" Luzinski, Lonnie Smith, Del Unser, Larry Christenson, and Marty Bystrom.
It's Hall-of-Famers, like Joe Morgan, Tony Perez, and Chuck Klein.
But, it's also for guys like Steve Jeltz, Luis Aguayo, and the one and only Kevin Stocker.
It's for good guys like Jim Thome and Mickey Morandini.
It's for good 'fros like the ones of Manny Trillo, Bake McBride, and Garry Maddox.
It is for those that transcend generations, like Richie "Whitey" Ashburn, Robin Roberts, and Grover Cleveland Alexander.
It is for Kentucky Senator Jim Bunning and his Father's Day perfect game.
It's for every 50-something Philadelphian's favorite all-time Phillie, Johnny Callison.
It is very, very much for John Vukovich, but it's also for Tony Taylor.
It's for Jim Fregosi, Dallas Green, and "The Pope" Paul Owens.
It's for Larry Bowa, the manager.
But, it's much more for Larry Bowa, the player.
It is for John Felske, the manager and Lee Thomas, the GM.

It's for Daulton, Dykstra, and Duncan.
It's for Terry Mulholland, Tommy Greene, and even "Big Ben" Rivera.
It's for Ricky Jordan, Wes Chamberlain, and Pete Incaviglia.
It's for Dave Hollins and his split personality, "Mikey."
It's for Roger Mason and the best eighth inning ever pitched.
And, it's most definitely for Mitch "The Wild Thing" Williams, despite the worst ninth inning ever pitched.
It's most certainly for John Kruk, and undoubtably for Aaron Rowand.
It is NOT for Scott Rolen, J.D. Drew, Billy Wagner, Kenny Lofton, or even Curt Schilling.
It's NOT for cheaters like Jeremy Giambi, Ryan Franklin, or Jason Grimsley.
But, it is for role players, like Greg Gross, Milt Thompson, Rex Hudler, Jim Eisenreich, and the great Charlie Hayes.
It's for utility players, like Randy Ready, Greg Legg, Kevin Sefcik, Kevin Jordan, Abraham Nunez, the great Placido Polanco, and the one and only Tomas Perez.
It's for backup catchers like Todd Pratt, Tom Prince, Steve Lake, Kelly Stinnett, Bobby Estelella, Gary Bennett, Johnny Estrada, and A.J. Hinch.

It's for good relievers like Steve "Bed-Rock" Bedrosian, Kent Tukulve, and Roger McDowell.
It's for bad relievers like Aaron Fultz, Todd Frohwirth, Jeff Parrett, Joe Boever, Wally Ritchie, Jeff Juden, Paul Quantrill, Mike Grace, Cliff Pollitte, and Yorkis Perez.
It's for mediocre relievers like Rheal Cormier, Doug Jones, David West, Omar Daal, and Dan Schatzader
It's for insane relievers like Larry Andersen, Ricky Bottalico, and Turk Wendell.
It's for insane starters like Danny Jackson and Vincente Padilla.
It's for Philly's own, the late, great "Johnny Marz," John Marzano.
It's for the starting middle infield combination of Mark Lewis and Alex Arias.

It's for all the guys who came well after their primes, like Lance Parrish, Gregg Jefferies, Tommy Herr, Phil Bradley, Benito Santiago, "El Sid" Fernandez, Jerry Koosman, Bobby Thigpen, Jose Mesa, Ron Gant, Wally Backman, and Fernando Valenzuela.
It's for all the guys who were traded away before their primes, like Ryne Sandberg, Dave Stewart, Julio Franco, Mike Williams, Carlos Silva, and Gavin Floyd.
It's for all the guys who were supposed to, but never really had a prime, like Travis Lee, Rick Schu, Desi Relaford, Jeff Stone, Kevin Gross, Keith Hughes, Kyle Abbott, Tony Longmire, Tyler Green, first-round pick Wayne Gomes, and the infamous Jeff Jackson.

It's for all the guys whose primes actually did take place in our town, though unfortunately too often over-looked, like Bobby Abreu, Von Hayes, Juan Samuel,  John Denny, and Mike Lieberthal.
And, it's even for all the guys who never actually played any baseball–prime or no prime–during their time here, like Danny Tartabull and Freddy Garcia.
This is for Don Carmen, Shane Rawley, Andy Ashby, Dave Palmer, David Coggin, Brad Brink, Ken Howell, and Pat Combs.
It's for Robinson Tejeda and Eude Brito.
It's for Jon Lieber, Eric Milton, Kyle Lohse, Garrett Stephenson, and the late Cory Lidle.
It's for Michael Mimbs' change-up and Darrell Akerfelds' knuckle-curve.
Though it may be more for Sal Fasano, there's also a little bit there for Rod Barajas.
It's for Michael Bourne, Geoff Geary, and Mike Costanzo.
It's most certainly for Ed Wade–thanks for giving us Lidge, Ed.
It's for Marlon Anderson and Marlon Byrd.

It's for Paul Byrd and the "Byrd's Nest," Randy Wolf and the "Wolf Pack," Brandon Duckworth and the "Duck Pond," and Robert Person and "Person's People."
It's for "Starvin'" Marvin Freeman, Heathcliff Slocumb "if you got 'em," and Ricky Ledee "is young."
It's for the so-called "speed demons" like Sil Campusano, Ricky Otero, Nick Punto, Lou Collier, Michael Tucker, and "White Lightning" Bob Dernier.
It's for Pirates' manager, John Russell, Brewers' interim manager, Dale Sveum, Angels' bench coach, Ron Roenicke, and even the evil Rays' third base coach, Tom Foley.
It is for Juan and David Bell, and Ivan and Jose DeJesus.
It's for Glenn Wilson's arm, Kim Batiste's hit, and Ron Jones' perpetually broken leg.
It's for the apparent five tools of Chris James and Wendell Magee, Jr. and the promise of Dennis Cook and Mike Jackson (twice).

It's for shaky relief pitcher, Eric Junge, but not shaky ESPN analyst, Eric Young.
It's for Brewers' pitching coach, Mike Maddux, but not his brother, Greg.
It's for the hefty Brian R. Hunter, but not the sleek Brian L. Hunter.
It is for Carmelo Martinez, but not his cousin, Edgar.
It's for Mark Leiter, but not Al Leiter.
It's for guys that you are proud to have represent you, like Andy Van Slyke, Dale Murphy, Rico Brogna, Dickie Thon, Doug Glanville, and Jeff Conine.
And, guys who you may not so proud to have represent you, like Ugueth Urbina and Jason Michaels.
It's even for current Mets, like Endy Chavez, and former Braves, like Bruce Chen, Randall Simon, and Kevin Millwood.It's for Gary Varsho and Gary Redus, David Delluci, Midre Cummings, Doug Bair, Bo Diaz, Kent Bottenfield, Charles Hudson, Bob Ayrault, Joe Millette, Tim Mauser, Ozzie Virgil, Chris Roberson, Kevin Elster, Floyd Youmans, Tyler Houston, Jeff Manto, Sixto Lezcano, Torey Lovullo, Amaury Telemaco, Nelson Figureoa, Kevin Foster, Ron Reed, Mike Easler, Gene Schall, Dave Rucker, Tom Hume, Terry Adams, Jim Lindeman, John Mabry, Joe Cowley, Russell Branyan, Wes Helms, Chad Ogea, and Tadahitoooooooooo Iguchi.
It's for Jon Zuber.
But, most of all, it's for all the people that make the lives of each and every Phillies Phan so wonderful, be they a part of the Phillies, in title, or the much, much larger part of the Phillies–the part that is the fans.  Guys, this one's for US!!!!!!!