With roughly six weeks left in the regular season, let's take a look at the current leaders in the race for the Conference Player of the Year awards.
ATLANTIC 10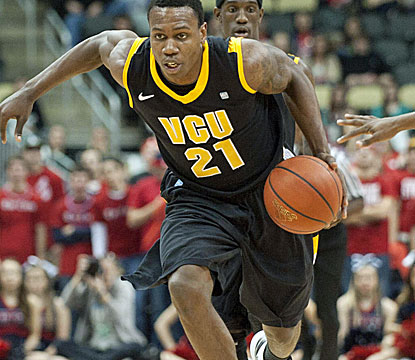 Current POY: Treveon Graham, VCU.  Interesting but not surprising that this is currently a race between players from the two new A-10 powers, VCU and Butler.  Graham gets the nod right now over Rotnei Clarke of Butler, but mostly just because Clarke has been out for the last couple of weeks with a neck injury (he returns today vs. Temple).  Graham, just a sophomore, is a big guard averaging 16 points and 6 rebounds for the Rams.
Other Contenders: Aside from Clarke, Temple's Khalif Wyatt is second in the league in scoring, but needs to be more consistent.  Graham's VCU teammate, Juvonte Reddic, could definitely steal the award from him.
Next Day Edit: After La Salle's win at VCU, coming on the heels of a defeat of Butler, Ramon Galloway has put himself into the POY discussion.  The senior guard from Philly went for 31 points vs. VCU, and is averaging 17 a game on the year.  The Explorers are making a push for their first tournament appearance since 1992.  Meanwhile, Clarke's 24 points/9 assists in a defeat of Temple last night might have pushed him into the lead for POY in what will be a tight race to the finish.
ACC
Current POY:  Mason Plumlee, Duke.  His performance has dropped off a bit lately, but he's still the easy pick here.  Leading the league in rebounding (11.4), second in scoring (17.3), and 4th in blocks for the 16-2 Blue Devils.
Other Contenders: With a 5-0 start to league play, including the demolition of Duke a few days ago, Miami's Durand Scott has to be in the 2nd spot for ACC POY, at the moment.  The senior guard is the Canes leading scorer and third in the league in steals.  NC State's C.J. Leslie could end up in the conversation if the Wolfpack can put things together.  Hard to imagine Seth Curry beating out his teammate, especially with the nagging leg injury, but it is a possibility.
BIG 12
Current POY: Ben McLemore, Kansas.  An interesting race here, but the nod goes to this freshman guard who some think will be the best NBA player to come out of Kansas since Paul Pierce.  He's an elite athlete with outstanding shooting ability.  He's second in the league at 16 points a game, shooting 45% from 3, for the 17-1 Jayhawks.
Other Contenders: Kansas is the clear class of the league, so McLemore's main competition is teammate Jeff Withey, who's averaging 13 points/8 boards and is among the nation's leaders with over 4 blocks a game.  Two other intriguing candidates are Baylor's Pierre Jackson (leading the league by a wide margin with 18.6 ppg) and Kansas St.'s Rodney McGruder, who's been coming on strong after a somewhat slow start to his season.
BIG EAST
Current POY: Michael Carter-Williams, Syracuse.  Not a big scorer (12 points a game), but he's leading the nation in assists and is among the leaders in steals.  He has the Orange in first place in the league and has hit some big shots and made some big plays in a couple of key wins.
Other Contenders: Louisville's Russ Smith is the main contender right now, with his 19 points a game for a team that could very well end up winning this league.  Cincinnati's Sean Kilpatrick is a good darkhorse candidate.  Two guys that need to get their team's winning consistently again to get back in the conversation are Notre Dame's Jack Cooley and Georgetown's Otto Porter.
BIG TEN
Current POY: Trey Burke, Michigan.  The nation's best conference also might have the best POY race, not surprisingly.  Right now, Burke is a fairly easy choice, but that could definitely change.  The sophomore point guard is third in the league in scoring (17.8 ppg), shooting over 50% from the field, and ranks first in assists by a wide margin (7.2 per game).
Other Contenders: Ohio St.'s Deshaun Thomas (leading scorer at over 20 ppg) and Indiana's Cody Zeller look like the main competition.  Burke's backcourt mate, Tim Hardaway Jr., and Indiana's do-it-all guard Victor Oladipo could possibly overtake their more highly-touted teammates.  And if Michigan State ends up stealing the league title, which is far from impossible, Keith Appling could have a case.
MISSOURI VALLEY
Current POY: Doug McDermott, Creighton.  When you're the favorite for national POY and you play in a mid-major conference, that's what we call a no-brainer pick.  24 points per game, 56% from the field, and 49% from 3.  Quite simply the best scorer in the country by a wide margin, and his team 17-3.
Other Contenders: Basically, there isn't any.  But the current 1st place team in the MVC is not McDermott's squad, it's actually Wichita State.  They have two forwards, Cleanthony Early and Carl Hall, who's names you just may hear in March.
MOUNTAIN WEST
Current POY: Jamaal Franklin, San Diego St.  You could make the argument that this is the second-best league in the country, and the POY race backs that up.  Franklin will make a lot of money in the NBA.  The 6-5 guard is second in the MWC in rebounds (9.6 per game), which gives some idea of his athleticism, as well as how hard he plays.  He's also averaging 18 points, which ranks third in the league.
Other Contenders: UNLV's Anthony Bennett may have hit the freshman wall a bit, with back-to-back single-digit scoring games last week, but he's still averaging 18 points/9 boards on the year for a really good Rebels team.  New Mexico guard Kendall Williams is the best player on what just might be the best team in this league, so his 14 points/4.6 assists per game have to have him in the discussion.  Darkhorse candidates for under-the-radar solid teams:  Boise St.'s Derrick Marks and Colorado St.'s Colton Iverson.
PAC-12
Current POY: Shabazz Muhammad, UCLA.  Some rated Muhammad as the top high school player in the country last year, but he was ineligible for the first couple weeks this season, and then he's been underwhelming at times once he got on the court, with his team having some big struggles in non-conference play.  Despite all that, here he is as the current leader for the league POY.  The Bruins just had a win at Arizona, where Muhammad scored 23 points.  He's averaging 18 and shooting 47% from 3, and has his team 6-1 in league play.
Other Contenders: Oregon is the lone undefeated team in league play, but they've been really balanced, with no stand-out player.  That leaves a quartet of players from the other league contenders that could push Muhammad for POY:  Arizona's Mark Lyons, Washington's C.J. Wilcox, Cal's Allen Crabbe, and Arizona St.'s Jahii Carson.
SEC
Current POY: Marshall Henderson, Ole Miss.  Henderson is, by all accounts, a very odd dude that bounced from Utah to Texas Tech to junior college over the last few years.  After winning JUCO National POY a year ago, he landed in the SEC, and he has Ole Miss contending for the first time in forever.  A lot of that is because the SEC is just pretty bad this year, but Henderson the sharp-shooting and volatile Henderson is leading the league at over 19 points per game, and has the Rebels at 5-0 in league play.
Other Contenders: It's kind of a jumble of guys behind Henderson right now.  Missouri's Laurence Bowers seems like the best candidate to challenge him, but he needs to get healthy again.  His teammate, Phil Pressey, has the talent but hasn't been able to harness it all the time this year.  Florida is the league's best team, but it's hard to see Kenny Boynton or Erik Murphy distinguishing themselves enough for the award.  Finally, Arkansas's BJ Young and Alabama's Trevor Releford are having strong seasons for teams that aren't great, but will contend in a weak conference.
WCC
Current POY: Kelly Olynyk, Gonzaga.  Coming into the season, no one would be surprised if a Gonzaga player took the POY award for the WCC, but few would have thought it would be Olynyk.  After redshirting last year, just to work on his game, the 7-foot junior has been a dominant player for the Zags.  And he keeps getting better as the season goes along: in conference play so far he's averaging over 25 points a game, while shooting a mere 73% from the field.
Other Contenders: St. Mary's PG Matthew Dellavedova won this award last year, and if the Gaels can manage to win this league again, he would be in line to repeat as POY.  BYU has two guys putting up big numbers: guard Tyler Haws (20.6 ppg) and forward Brandon Davies (18 points/7 rebounds), but unless they can rise up out of the 3rd place position, they'll likely have to settle for spots on the All-Conference team but not grab POY.  It's conceivable that Olynyk's teammate, Elias Harris, could take it, but considering the way Olynyk has been improving as the season goes along, it seems very unlikely.