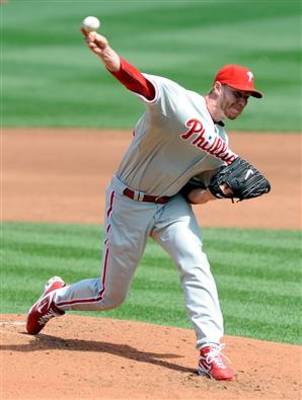 On Monday night, as everyone knows, the Phils clinched their fourth consecutive NL East title.  How impressive is that?  How about this stat:  the Phils have just become the third team in NL history to make 4 consecutive post-season appearances.   Also, considering they clinched with 5 games still to play and little drama involved, it's easy to forget that two months ago it looked like just making the playoffs would be a tough haul, let alone chasing down the Braves and taking the division.
In lieu of any more semi-weekly report cards, it's time to shift our focus fully to the post-season.  The Phils are right on the verge of clinching the best record in the NL, which almost certainly means that they will be starting the playoffs a week from Wednesday at Citizens Bank Park.  Let's take a look at some of the key questions Phils fans should be following over the next week:
What will the rotation look like?  Not only was it a pleasure to watch Roy Halladay deal a two-hit shutout on Monday, but it also kept Charlie Manuel and Rich Dubee from having to make any tough decisions regarding their Game 1 starter.  Halladay had been struggling (by his standards) of late, but his dismantling of the Nationals (even though it was the Ryan Zimmerman-less Nationals) seals the deal for him as the first pitcher to take the mound in the playoffs.  This also means that Halladay's regular season is finished, though he'll need to stay sharp with a side session or two over the next 8 days.  It's obviously a luxury to be able to get him some needed rest.
My guess is that Hamels will go in Game 2, followed by Oswalt.  I absolutely agree with that order for a 7-game series, because I'd love to hand the ball to Oswalt for a potential Game 7, but for a 5-game series I'm not completely sure.  Either way, I think it will be Hamels in Game 2, and I have no problem with that.
What's up with Rollins?:  All indications are that Jimmy will be in the starting line-up on Tuesday night, and for the remaining four games after that.  One of the most important aspects of these last five games is Rollins getting back into the flow, and the coaching staff evaluating what they have in him.  The guess here is that Victorino is in the lead-off spot to stay, and that Rollins will be hitting 7th, and maybe flip-flopping with Ibanez up to the 6-hole against lefties.
Who's on the playoff roster?:  For the 5-game series, it will almost certainly be just 11 pitchers.  Besides the three starters, Joe Blanton will be there.  He could potentially slot into the bullpen and bump Durbin down a notch, but most likely he'll be a just-in-case long man/extra starter.  Lidge, Madson, Contreras, and Romero will also be there.  That leaves two more spots to be filled by Bastardo, Herndon, Kendrick, or Baez.  I'd go with Bastardo and Kendrick, but a case could be made for the other two.  This could be decided by how these four guys pitch in these final five games.
That leaves room for 14 position players.  Besides the 8 starters, Valdez, Schneider, Gload, and Francisco are locks.  That leaves two spots for Sweeney, Dobbs, and Brown.  Honestly, none of these three brings much to the table.  I guess Sweeney should be on because of his veteran leadership and to give one more right-handed bat.  Dobbs and Brown is a tough call.  They've both done nothing, and Brown has been (not surprisingly) lost as a pinch-hitter.  Brown brings the speed, but is he really a good base-runner at this point?  Dobbs brings the experience.  Again, could be determined in these 5 games.
Who do we want to play in the LDS?:  With just 5 games left, there are still three potential first-round foes for the Phils:  San Francisco, San Diego, and Cincinnati.  We'll certainly take a closer look at these teams next week but for now I most want to play the Padres, followed by the Reds, and then the Giants. 
The Giants as least appealing opponent is a no-brainer.  Tim Lincecum has been back to his old self in September, Matt Cain has been lights out for months, and Jonathan Sanchez has a sub-1.00 ERA in September.  The Phils have the better line-up, but the Giant line-up isn't the pushover that many think it is, especially with Buster Posey raking in the middle of it.  It's not hard to imagine Phillie-Giant games coming down to the bullpen, and they have an advantage there.  The Giants should scare you right now if you're a Phils fan.
Reds or Padres is a fairly tough call, but I want the Padres because their starting pitchers, who are so important to their success, appear to have hit the wall.  Mat Latos is the ace of the staff, but he's young and appears to have run out of gas.  Jon Garland and Clayton Richard are solid pitchers, but they're pretty average away from Petco Park.  Yes, the Padre bullpen is absolutely lethal, but with their anemic offense and faltering starting pitching, I don't think the bullpen will be able to play much of a factor.
The Reds are somewhat opposites to the Padres.  They lead the NL in runs scored, led by likely MVP Joey Votto.  But there is nothing resembling an ace on the staff, with Bronson Arroyo and Johnny Cueto leading the way.  Aroldis Chapman is certainly an added weapon to their bullpen, but Francisco Cordero has had a sub-par season in the closer role, and the rest of the pen just doesn't really scare you much.