Record since last Report Card: 8-0
Overall Record: 56-46 (2.5 behind Braves, 1.5 behind Giants in Wild Card)
So, in this past week, the Phillies added one of the best pitchers in baseball over the past decade, arguably the top prospect in all of baseball, AND they didn't lose a game.  Not bad, I guess.  When you consider that this came on the heels of a week that saw them win just one game and left them 7 games out in the division, it makes it all the more important, surprising, and exciting.  General baseball wisdom states that it takes a week to make up a game in a pennant race, and the Phils just made up 4.5 games in a week.
I don't have much to add to the Oswalt deal.  I do really like it.  The Phils gave up J.A. Happ, a guy that gave them an incredible season last year but it was clear that the Phils front office never had a ton of faith in him.  The other prospects are both great athletes with speed, but they're both 19 and have spent the season in A-ball, and not tearing things up there, either.  Plus, the Astros and good old Ed Wade agreed to kick in $11 million of Oswalt's money, which could be the difference-making financial flexibility that has them adding a nice bullpen piece going into 2011.  Yes, the Cliff Lee deal was a disaster.  But hats off to Ruben Amaro, as Bry said yesterday, for staying aggressive.
Some key links for more reading on the deal: 
 On to this week's grades: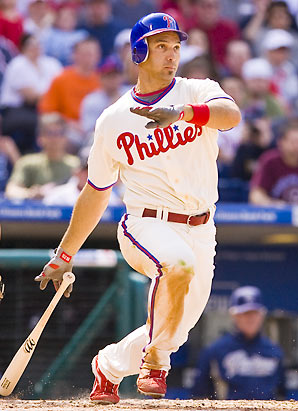 Position Players:  You didn't think we'd actually get through one of these reports without a couple injuries, did you?  Nope.  Shane Victorino strained an oblique muscle and hit the DL.  The Phils have now seen 5 of their 8 everyday players put on the DL this season (not to mention 3 starting pitchers, 5 relievers, the backup C, maybe some I'm forgetting?).  Jimmy Rollins also has missed the last three games after fouling a ball off his foot.
Moving past the injuries, it was a bounce back week for the offense that they badly needed.  Probably a coincidence, but it really got started after hitting coach Milt Thompson was fired after last Thursday's game, and replaced with former hitting coach Greg Gross.  Maybe the real turning point was when they pounded Ubaldo Jimenez, who has been the best pitcher in baseball this year, in a 10-2 win on Saturday.
The big individual story of the week was Raul Ibanez.  Give credit to Charlie for sitting him against lefties, because it seems like that might have helped him find his stroke again.  Raul hit .429 (12-28) with 2 HR over the past week, including a big homer off the lefty Joe Saunders on Thursday.  We haven't seen him hit like this since before last year's All-Star break.  Another guy that had been struggling, Jayson Werth, also had a great week.  He hit .407 (11-27) with a homer and five doubles.  Placido Polanco, who has started the past six games at second base, and Carlos Ruiz also chipped in with nice weeks.  And the bench continued its emergence, as Ross Gload and Ben Francisco combined to hit .421 (8-19) with 2 homers, and Brian Schneider had a big 2-run triple on Monday.
It was a nice week defensively, as well.  They were a little sloppy on Tuesday, when Ryan Howard had a throwing error (shocking) and Polanco missed a tag.  But they made just two errors (both Howard) on the week, and they had some big plays to save the 3-2 win on Thursday.  Ibanez made a great throw to nail a runner at second and Wilson Valdez made two incredible turns for double plays.
Grade: A-
Starting Pitchers:  Just a great week from the rotation.  Considering the injuries and uncertainty, the starting pitching has been pretty amazing this season.  There are some good candidates for Start of the Week, but we'll go with the effort from Cole Hamels last Thursday: 8 innings, no runs and one hit, even though he took a no-decision.  Mr. Halladay had two vintage performances, giving up one run in 17 innings, and striking out 18.  If not for a minor mistake by Dom Brown in right on Wednesday, Halladay would have had another shut-out.
Kyle Kendrick was sent to AAA last week, but he never pitched there because of the injury to Jamie Moyer.  His up-and-
down season continued, as he looked great pitching 13.1 innings and allowing just two runs in his two starts.  Joe Blanton was solid, giving 6 innings, 2 runs in Monday's win.  Finally, J.A. Happ closed out his Phillie career with a decent outing on Sunday.  We wish him well in Houston.  With Happ gone and Moyer probably done, the 5th rotation spot is once again Kendrick's to lose.  The starters combined for a 1.82 ERA on the week.
Grade: A
Bullpen:  The week was an adventure for Brad Lidge, and 'adventure' is never a good word for a closer.  The trusty save statistic will show that he was 3-for-3 in save opportunities, but it wasn't that simple.  Last Thursday, he came on with a 2-run lead and walked the lead-off batter (always encouraging), then ran a deep count to the next batter before getting three straight outs.  That was tame compared to what was coming.  With a 1-run lead on Sunday, he loaded the bases with two walks and a single, and squeezed his way out with a strike-out to end it.  He took it up another notch on Monday.  With a 3-run cushion, he surrendered a two-out, two-run homer to make it 5-4.  Then, just in case any fans watching were still breathing, he loaded up the bases by going walk, single, wild pitch, intentional walk, before finally recording the final out on a ground ball.
So, it's no wonder that Charlie didn't hand him the ball with a one-run lead in the 9th on Thursday.  Ryan Madson stayed on to face the first batter, allowing a double.  Then J.C. Romero came on and allowed the tying run to score.  Lidge looked great in the 10th inning, but who knows what that means.  If you look at the numbers, it wasn't a bad week for the pen.  But there was definitely no confidence instilled, either.  Lidge just may be the key to this entire season.  Here's hoping he can get the job done.
Grade: B
Up Next:  Friday night's series opener in Washington will be must-see for Phils' fans, as Oswalt makes his debut, and Dom Brown will be back in there in right field.  The Phils have three straight series within the division, with a trip to Florida next week before coming back home for the Mets.