Known as more of a football conference historically, the Big Ten just might be the best basketball conference in the country this year.
Conference Tidbits
The Big Ten led the nation in attendence last year for an astounding 34th consecutive season, averaging more than 12,500 fans per game.  The conference has drawn more than 2 million fans every season since 1991-92.  The SEC was a distant second with an average attendence of 11,770.

Last year, the Big Ten won the ACC/Big Ten Challenge for the first time in the 11-year history of the event.  This year's schedule is headlined by the marquee matchups of Michigan State at Duke, UNC at Illinois, and Ohio State at Florida State.

The only new coach in the conference is Iowa's Fran McCaffery (proud alumnus of LaSalle High School in North Philly).  McCaffery, coming off five stellar seasons at Siena, will try to lead his 4th separate program to the NCAA Tournament.  Along with Siean in each of the past three seasons, McCaffery also went to the Big Dance with UNC-Greensboro in 2001 and Lehigh in 1988 (the #16-seed that lost to the #1 overall seeded Temple Owls).
Blue Ribbon's All-Conference Teams
MVP:  JaJuan Johnson (Purdue)
E'Twuan Moore (Purdue)
Talor Battle (Penn State)
Jon Leuer (Wisconsin)
Draymond Green (Michigan State)
TOP NEWCOMER:  Jared Sullinger (Ohio State)
BSB's Picks
Ohio State

Michigan State
Illinois
Purdue
Minnesota
Wisconsin
Northwestern
Penn State
Indiana
Iowa
Michigan
Lock Tournament Teams:  Michigan State, Ohio State, Illinois, Purdue
Very Likely Tournament Teams:  Minnesota
Possible Tournament Teams:  Wisconsin, Northwestern, Penn State
Possible NIT Teams:  Indiana, Iowa
Unlikely Postseason Teams:  Michigan
The Favorite – Michigan State

This is more of a what the national perception is, by calling them the favorite.  As you can see above, I picked Ohio State as the best team in this conference, but I think most people, coming into the season, would have pegged Michigan State as the favorite to win the best conference in basketball.  And, they are loaded, with the best coach in the country guiding this ship.
The Team
While, somehow, Blue Ribbon didn't pick senior point guard Kalin Lucas as the player of the year (in fact, he wasn't even on Blue Ribbon's first-team all-Big Ten), I actually believe that Lucas is the best player in the conference.  He won the award two years ago, as a sophomore, and didn't win it last year because of injuries.  If he is healthy (which, admittedly, is a significant "if"), then Michigan State has the best player in the conference, and maybe even the best player in the nation.  If Lucas does miss time or starts slow, Sparty can just turn to the guy they turned to last year in the most important of times, Korie Lucious, who filled in for an injured Lucas to lead the Spartans to an unlikely Final Four.  Lucious is back for his sophomore season, and both guys are absolute jets up and down the court.
The other starting guard will most likely be 6'4″ senior, Darrell Summers.  Summers had an up-and-down junior season, but came up huge in the NCAA tournament, averaging close to 20 ppg.  Summers is an excellent perimeter defender and a very good rebounder from the guard position.
As you can see with a starting backcourt of two seniors, not only is Michigan State talented, but they're also experienced.  The frontcourt is no different, as they should start 2 more juniors at forward.  And, not only are these two forwards experienced, but they're big and very, very skilled.  6'8″ small forward Delvon Roe is really big for a small forward and can easily slide to the 4, if Izzo wants to run small.  Roe is very skilled and a fantastic defender.  The other forward is 6'6″, 230-pound Draymond Green.  And, it's hard to say the "other forward" because there is a really good chance, even as good as Lucas, Roe, and Summers are, that this team will revolve around Draymond Green.  He is truly a do-it-all kind of a player.  He has the junkyard dog kind of mentality, but he couples it with incredible skills.  He's 6'6″, 230 pounds, but can put the ball of the floor like a guard.  He is also a phenomenal passer, as indicated by his 112 assists last year (third on the team, only 19 fewer than starting point guard, Lucas, and 6 fewer than backup point guard, Lucious).  But, he is also a tenacious rebounder and interior defender, who could play the 5, if needed.  He runs the floor well and should enable the Spartans to get out in transition a lot this year.
Obviously, this team will start Lucas, Summers, Roe, and Green, but the fifth spot could be anyone.  On some nights, Izzo might decide to go really small and run out two point guards and start Lucious.  Most nights, however, he will probably go conventional for most of the game, and that works because he has a trio of very good bigs that could fill that center position.  The most likely is 6'9″ sophomore, Derrick Nix.  Nix has dropped 60 pounds since arriving on campus at an incredible 340 pounds.  But, along with the weight, Nix brought with him some serious talent and should probably be the starting center by the time it really matters.  Another option is another big sophomore, Garrick Sherman.  Sherman is more of a solid, space-eater kind of guy, which might work well, considering the Spartans probably won't need a lot of scoring from this spot.  The really intriguing option, however, is 6'10" freshman, Adreian Payne.  Payne was rated as the #3 center in this freshman class and the #20 overall prospect.  In fact, Tom Izzo was quoted as saying that Payne is "the most athletic big man we've ever had."  Payne was supposed to be a one-and-done guy, but he got hurt early in the summer and has had to rehab ever since, so he might not be ready to make that jump, which may not be good news in the short-run for Michigan St., but is very good in the long run, if they get an extra year out of him.
Payne wasn't the only top-notch recruit that Izzo welcomes this year.  Point guard Keith Appling, who also might end up starting in a small lineup, was last year's Mr. Basketball in Michigan.  Appling can flat-out fill it up, but his real strength is his floor game.  There are some people who say that, if Appling stays a couple years under Izzo, that he might go down among the greatest point guards to play in East Lansing – you know a list that includes some guy named "Magic."
Are They Better Than Last Year?
I would say that, yes, they are better than they were last year.  I know that last year's team made the Final Four, but they weren't nearly that dominant in the regular season.  This year, they could stay in the top five or ten all year long.  That being said, they do have some replacing to do.  Chris Allen ended his tumultuous Michigan State career by finally being dismissed by Izzo and ending up as a transfer to Iowa St.  While Izzo had bigs plans for Allen this year, he is replaceable.  One guy who might not be so easy to replace is Raymar Morgan.  Morgan may be the most underappreciated player I've ever seen in college hoops, and I don't know why.  Ask any Michigan State fan how they feel about him and they will say something disparaging in some way.  But, every time I watched the guy play, he just seemed like he was something special.  He understood the game and played it with an unlikely combination of finesse and power on both ends of the floor.  I think Morgan is a tough guy to replace.  But, all in all, with a healthy Lucas, this is definitely a better version of the Michigan State team of a year ago.
Question Marks
Replacing Allen?  They knew that they were going to have to replace Morgan because he was a senior.  They did not know that they'd have to find someone to take the place of Allen so soon.  And, what they've lost is a really terrifying outside shoter.  Lucas is a good shooter, and Appling might light it up, but Allen was feared.
Health?  Lucas, mainly.  If he's healthy, a lot of questions surrounding this team will be answered.  If not, who knows where they'll end up.  There are also pretty serious health concerns surround Delvon Roe and, to a lesser degree, Draymond Green.  In tact, this is a great team, but in pieces, they will have to speed up the development of guys like Appling and Payne.
Their Ceiling
No doubt this team can win the National Championship.  Will they?  Well, that depends on many things, not the least of which is health.  But, they have the talent, the experience, and the coach to cut down the nets.
My Favorite – Ohio St.
Evan Turner is wearing a Sixers uniform, but the Buckeyes are loaded with young and old and may be able to surprise every again with another Big Ten title and long NCAA tournament run.
The Team
The Buckeyes have the always great college combination of veteran leadership and young, elite talent.  They also have go-to scorers on the perimeter and in the post, and, arguably, the best defender in the country, in fifth-year senior, David Lighty.  This is a pretty nice recipe for success.
Their backcourt is well stocked with returning players other than Lighty, including dead-eye shooter (and all-time leading scorer in the history of Ohio basketball) Jon Deibler and super-scorer William Buford.  With those two, the Buckeyes will have no problem scoring on the wing.
And, they should have no problem scoring in the post, either, with the addition of super-frosh, Jared Sullinger.  Sullinger, the co-MVP of the 2010 McDonald's All-American game may push Kyrie Irving and Harrison Barnes in the freshman of the year race.  Starting alongside Sullinger down low is another veteran in massive power forward Dallas Lauderdale.  The Buckeyes have size and strength to go along with their veteran leadership and scoring ability.
And, Sullinger is not the only piece to the incoming class that should make waves.  In fact, Thad Matta, over the past 4-5 years, may have established himself as the best recruiter in the college basketball.  Along with Sullinger, the prize of the class, are some "other pieces" that would be the prizes of 99% of D-I programs.  DeShaun Thomas scored 3,018 points in his high school career, ranking him 3rd on the all-time scoring list in the state of Indiana – not exactly a state devoid of talent.  In fact, Thomas was chosen as one of 26 players on the Indiana State All-Century team, alongside guys like Larry Bird and Oscar Robertson.  Matta also landed a possible star point guard in local product, Aaron Craft.  Craft, also a star quarterback and valedictorian of his high school class, may just start right away for this team at the point.  They also added another top 40 guy in Jordan Sibert, who has been compared favorably to Buford and should step right in for him when he needs a breather.
Are They Better Than Last Year?
On the surface, it's hard to imagine that they could be better without the national player of the year, but I think they are.  Turner may have had the best single season in the history of Ohio State basketball, but the rest of the team is all back, including some very experienced players (remember, Lighty was a key player on the Oden-Conley team that lost to Florida in the national championship game in 2007), and, more importantly, Thad Matta has brought in a ton of freshman talent with all sorts of complementing skill sets, including a flat-out stud in Sullinger.
Question Marks
The Meshing of Old and New?  Obviously, there is something to be said for supreme freshman talent (a Top 5 guy, a Top 10 guy, a Top 25 guy, and a Top 40 guy) wanting to play and play immediately.  With the exception of Sullinger and maybe Craft, there isn't really room for starting spots with the return of Lighty, Diebler, and Buford (and even Lauderdale), so will guys like Thomas and Sibert be effective off the bench?
Defense?  Not usually a question mark for OSU and it's surprising that it would be here because they have, in my opinion, the best all-around defender in the country, in Lighty, but the rest of the team, with the exception of Lauderdale, is either a little deficient or green or both on the defensive end.  I don't think this is a huge concern because Matta teaches defense, but something to keep an eye on.
Ceiling
I agree with Doogan's thoughts here, in that this team definitely has Final Four potential, and I even think that they have a legitimate shot to win the whole thing.  They are balanced, experienced, well-coached, and most of all, supremely talented.
Elite – Illinois
You might not know this, but Illinois hasn't won an NCAA tournament game since 2006 – their longest drought in 30 years.  That will most likely change this year, as this team is loaded.
The Team

The Illini have all five starters returning and back-to-back stellar recruiting classes.  The program is on the rise.  And, there are plenty of good-to-great players and potential stars on this team, but there is one guy that rules the roost in Champaign, and that is 6'3″ senior point guard, Demetri McCamey.  McCamey is a bonafied superstar who has an outside shot at Big Ten Player of the Year this year.  Averaging over 15 ppg last year, he also dished out more than 7 assists per game.  This is the year of McCamey in Champaign, and he seems ready to take it on.
Back in the starting lineup beside McCamey are backcourt mate, D.J. Richardson, and two frontcourt seniors, Mike Davis and Mike Tisdale.  Richardson, last year's Big Ten Freshman of the Year, is a lightning-quick slasher with a very good outside shot to keep defenders honest.  But, his real strength is on the defensive end, where he is a complete shut-down perimeter defender.  Davis added 20 pounds of muscle this offseason and is always ready to do the dirty work.  Tisdale is a soft, almost European-esque player, but is very skilled and stands tall at 7'1″.  Tisdale is not a good defender, but he is actually a very good outside shooter.  Can you imagine a 7-footer (not named Dirk) that can shoot the three-ball?  He will add that to his repertoire this year, after only missing one of the six threes he attempted in games last year.
But, there is one guy not yet mentioned that could make or break this Illinois season – Jereme Richmond.  Richmond, a 6'7″ freshman small forward from Chicago is going to start right away for Bruce Weber.  You may recognize the name.  He was the kid that committed to Illinois four years ago, as a freshman in high school.  Well, he followed through on his committment and now he's here and he's ready to shine.  Richmond, who was Illinois's Mr. Basketball as a senior (and runner-up as a junior) is the first McDonald's All-American to come to Illinois in the Weber Era.  He's the real deal and can do it all.  With McCamey running the show, Richmond could really shine.
Another guy who could really shine this year is the guy who beat out Richmond for Illinois's Mr. Basketball two years ago, Brandon Paul.  Paul is a supreme athlete who can jump out of the gym and shows up with a lot of energy.  However, he sometimes needs to reign it in, which if he can, he has all the skills to be a true star.  He will get a lot of minutes off the bench in both guard spots and look for him to maybe put up double-figure scoring numbers this year, as the Illini can get points from anywhere, it seems.
There are two valuable backup forwards that can contribute to Illinois this year.  The first is sophomore Tyler Griffey.  Griffey, an athletic defensive stopper has off-the-charts strength.  Senior Bill Cole should also provide some quality minutes because of his tenacious work ethic and strength.
Are They Better Than Last Year?
Without a doubt.  The Illini have everyone back and they've added the best recruit they've had since Derron Williams.  Watch out for Illinois this year.
Question Marks
Toughness?  They still seem a bit soft, particularly for play in the Big Ten.  Tisdale is 7'1″ and afraid of contact.  Davis is not exactly a bruiser down low either.  They will need significant "tough" minutes from Griffey and Cole off the bench to be able to stay with the bigger teams in the conference like Michigan State or Wisconsin.  But, they certainly have the skill to play with anyone.
A Top Dog?  I love McCamey and think he's going to be a star, but are we sure he's ready to be the best player on an elite team.  I think so, but I'm not totally sure yet.
Their Ceiling
This team is very good and, with a couple breaks, could vie for the Big Ten title.  I would say that they are clearly a Sweet Sixteen caliber team with, depending on just how good Richmond is, a very outside shot at a Final Four run.  Either way, they should break the five-year drought since winning their last NCAA Tournament game.
Elite – Purdue
It's almost natural to want to write them off after losing Robbie Hummel yet again.  But, let's be careful of that because we tried that last year when they went from everyone's darling heading into the tournament to everyone's first-round upset pick.  Well, they didn't get upset in the first round, then won again in the second round, and then gave eventual champion Duke all they could handle in the Sweet Sixteen.  There is a lot of talent on this team not named Hummel, that is still very healthy.  And, this team is actually pretty deep this time around.
The Team
Four years ago, Matt Painter brought in an under-the-radar recruiting class and decided to play them right away, take their lumps, and get ready to shine as upperclassmen.  Well, the plan worked to perfection, except for that darn ACL of Robbie Hummel.  Fortunately for Painter and the rest of the Boilermakers, the other two guys are very, very good.  6'10" center JuJuan Johnson and 6'4″ shooting guard E'Twaun Moore are two of the best players in country and even if Robbie Hummel had never existed, this team would still be touted as one of the best in the country.  Johnson is on the short-list for potential national player of the year candidates, and Moore can flat-out fill it up.  Both should have decent shots at playing at the next level next year.  But, this team is not just these two.  Lewis Jackson is a phenomenal player who missed the second half of last year due to a foot injury.  He's back and healthy and people will quickly remember just how good this guy is, even if they can't see the little 5'9″ point guard because he's moving too fast.
After Johnson, Moore, and Jackson, the other two starting spots may be decided on a night-to-night basis.  6'5″ sophomore Kelsey Barlow will almost assuredly find himself in the starting lineup on most nights.  A scrapper and great defender last year, Barlow could, eventually flourish into a decent scorer for the Boilermakers – they just don't need that this year.  One of the guys that might take the Hummel spot in the lineup is 6'5″ sophomore, D.J. Byrd.  Byrd is a scrappy rebounder with a decent outside shot, but doesn't really need to take anything more than the defense gives him.  6'8″ sophomore Patrick Bade was the backup center last year and could slide into the starting PF spot, aside Johnson.  Bade is a real bruiser (was offered a football scholarship as a tight end by Notre Dame, among others) with a nose for the ball, but like Byrd, won't provide more than the occasional "flow-of-the-offense" scoring.  If Coach Painter is looking for scoring, he might find it in 6'2″ sophomore shooter, John Hart, who can light it up if given the opportunity.  Also, look for junkyard dog, hustler Ryne Smith to get a lot of action at the 2-guard, as well.  (See, I told you they were deep.)
The real intriguing part of this team this year, however, is probably wrapped up in two freshmen named Johnson.  6'2″ Terone Johnson is the prize of this year's recruiting class and just may force his way into the starting lineup come season's end.  Drawing many comparisons to teammate E'Twaun Moore, Johnson, like Moore, was runner-up Mr. Basketball in Indiana, and can flat-out fill it up.  The other Johnson, Anthony Johnson is another guy who will probably get a boatload of minutes on this team.  This Johnson can flat-out shoot and has played – and shined – at the highest levels of high school ball in Chicago.
Are They Better Than Last Year?
They are not better than last year's team when Hummel was healthy because he's just too hard of a guy to replace.  But, I think they are considerably than they were last year without Hummel.  JuJuan Johnson is ready to be a top 10 player in the country, and E'Twaun Moore has developed into one of the best "second-best" players on any team in America.  If either (or both) of the freshman Johnsons pan out, this team could be really good.
Question Marks
Depth?  This isn't the same question that it was for them last year.  They have decent players.  The question here is do they have enough "elite" players to be an "elite" team?  Are Johnson and Moore enough to win a conference title in an absolutely loaded Big Ten?  Maybe
The Johnsons?  Can either of the freshman Johnsons emerge and fill at least a little of what they are lacking without Robbie Hummel?
Their Ceiling
Call me crazy, but even without Hummel, I think this team has the potential to be a Final Four team.  Everyone is so focused on what "could have been" with all three seniors and seem to be missing what "actually is" with the two that are still there.  It's hard to find a better one-two combination than Johnson and Moore anywhere in the country.  Plus, I think people forget just how good Lewis Jackson is.  If they get anything from anyone else on this deep roster, they could be a really formidable team come March.  Look for the Boilers to make a run at a Big Ten title and then possibly a deep tournament run.
The Team to Watch – Minnesota
Tubby Smith can flat-out coach.  Maybe he can't recruit well enough for a job like Kentucky, but there is a solid place for a guy like him at the college level, and he is going to bring the best out of the Golden Gophers this year, like he last year.
The Team

One of the knocks on Tubby is a lack of discipline (or, maybe just a knack for ignoring character in recruiting), and no better example of that is their best player this year, Trevor Mbakwe.  Mbakwe, who has a decent shot at all-Big Ten honors this year, had to sit out last year after being charged with felony assault in Florida.  The case was settled out of court, so Mbakwe is cleared to return to the other court – the basketball court.  And, man, is he welcomed back.  After one year at Marquette, one year in junior college, and one year under suspension, Mbakwe is ready to start his Minnesota career.  He is a true post player that could really make a huge difference for a team that was sorely lacking a true inside scorer a year ago.  Don't get me wrong, they have some talented frontline players, particularly Ralph Sampson III and Colton Iverson, but those two are tall and slow.  Mbakwe is the athletic frontline player that is needed in the college game that features so many quick power forwards.  Sampson and Iverson are very good in their roles and should be freed up to rebound, block shots and just be tall this year because of Mbakwe.
The backcourt is also strong for a seemingly overlooked team in the preseason.  They are led back there by senior shooting guard Blake Hoffarber, who led the Big Ten in 3-point shooting a year ago, shooting 46.7% from behind the arc and set a school record with his 85 treys.  The point guard duties are up in the air, but it's a pretty good problem for Tubby to have.  6'1″ senior, Al Nolen started the first ten games last year, but then was declared academically ineligible.  Nolen is back now, hoping to regain his starting spot from 6'3″ junior Devoe Joseph, who might not give it up easily.  Joseph was 10th in the Big Ten last year in assist-to-turnover rate, filling in for Nolen.  There is also an incoming freshman, Maverick Ahanmisi who may get some minutes at the point in his inaugural tour with the Gophers.
Are They Better Than Last Year?
The Gophers did lose their best player off of last year's squad, in Damian Johnson, but the added Mbakwe in the frontcourt and get Nolen back in the backcourt.  I think that they probably underachieved last year in barely sneaking into the tournament, so I'm not sure they are a lot better, but I do expect better results this year than they had last year (you know, before their amazing Big Ten tournament run).
Question Marks
How Will Mbakwe Fit In?  If he's as good as advertised, the sky is the limit for this team.  If not, they might just struggle to score at all without Johnson.
Who is Going to Score?  Similar to the last question, other than Mbakwe and the three-point shooting of Hoffarber, the Gophers do seriously lack anything remotely close to a go-to scorer.  Sampson and Iverson are nice, tall players, but not reliable scorers.  Nolen and Joseph are distributing point guards.  If Mbakwe is not lighting up the scoreboard, they may struggle to score, even with Tubby's fast-paced style of play.
Their Ceiling
I don't think they have the horses to compete for a Big Ten title in the best year this conference has seen, but they should definitely be a tournament team.  I think that their ceiling is probably Sweet Sixteen, with the more likely scenario being a 7 or 8 seed and not making it out of the first weekend.
Contender – Wisconsin
The Badgers are always good for one reason – Bo Ryan.  I can't think of more than 3 or 4 coaches in the country I would take over Bo, and I'm not even sure I'd take any of them for a program like Wisconsin.  The Badgers are never going to recruit all 5-star kids, but the kids that do go are ready to work and ready to play defense.  Bo loves that and does it as well as anyone around.  This team should be no different.  They have one star to lean on and a defensive style that give other teams fits.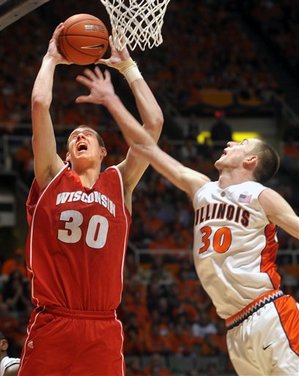 The Team
It all starts and ends with Player of the Year candidate, Jon Leuer.  Leuer, coming off of an injury-plagued junior season, appears healthy and ready to put this team on his back and carry them as far as he can.  Leuer, a bonafied star, is joined in the frontcourt by an unheralded returning senior, Keaton Nankivil, who can, at times, take the scoring load as he, with his deft shooting touch, fits perfectly into the Wisconsin offense.
The backcourt took a big hit with the graduation of Trevon Hughes and Brian Bohannon – two stalwarts for the Badger program.  They do have one holdover from last year, and it is junior point guard Jordan Taylor.  Without Hughes and Bohannon, Taylor will have to take on a much larger offensive role this year, and he's very much capable.  Expect a big scoring jump from Taylor this year, as he and Leuer should play a really dangerous inside-outside game.  The rest of the backcourt is a bit choppy, as they will rely on senior Tim Jarmusz and junior Rob Wilson to fill in a lot of minutes, considering very few rotation players return from a year ago.
There are a couple young guys who will be given every opportunity to break out this year, including sophomores Ryan Evans, Jared Berggren, and Mike Bruesewitz.  They also have a little help in the frontcourt with 6'11" fifth-year senior, J.P. Gavinski.
The Badgers do have a couple promising freshmen, led by a top-100 recruit in center Evan Anderson.  They also have a slick shooting guard that was supposed to go to Iowa, Ben Brust, and a lanky Yugoslavian small forward, Duje Dukan.
Are They Better Than Last Year?
No.  Hughes, especially, but also Bohannon were just too good to replace with a bunch of guys who haven't seen much Big Ten action.  Leuer is back and healthy, so that is a big plus, and Taylor should emerge as one of the Big Ten's best point guards, but there just isn't enough around them to say that they are better than they were last year.  Then again, Bo always does great things with rosters from which you don't expect much.
Question Marks
Is there anybody else?  Leuer and Taylor are good.  Nankivil is decent.  What else is there?  Can Jarumsz or Wilson step up?  Will they get a breakout from someone like Bruesewitz or Berggren?
Can Bo do it again?  He has made a name for himself winning with smoke and mirrors.  This year, he has a stud in Leuer, so he can lean on that, but he's pretty lean in other places.
Their Ceiling
I've been surprised before, so I think they'll be in it, but I don't think the Badgers can hang with the likes of Michigan St. or Ohio St. in the Big Ten race.  I think they will make the tournament, but the Sweet Sixteen would be the absolute maximum you can expect from the Badgers this year, I would say.
The Relevants
Two Big Ten teams that have lived almost their entire basketball lives as "irrelevant" round out the nine "relevant" Big Ten teams this year.  It would be phenomenal seasons if either of these teams made the NCAA tournament, but don't rule it out because there is talent there.  In fact, I will be rooting for both Northwestern and Penn State to make the tournament, as both of their fan bases deserve it.
Northwestern

"That's the fire swamp; we'll never survive!"  "Nonsense, you're only saying that because nobody ever has."  I really wanted to talk about Northwestern as a "Contender" alongside Wisconsin.  But, Northwestern has been competing in men's basketball since 1904 and, to this day, has never competed in the NCAA tournament.  So, I'll say it here – I will not consider them a contender until they make the tournament.  So, they are stuck with "Relevant."  But, the pieces are in place to make it so next year I might have the opportunity to make the a Contender, if I so choose.  This team can make the tournament.  Will they?  It's hard to say.  They took a big hit backwards when one of their stars, Kevin Coble decided that his injured foot wasn't healing correctly and was going to begin his "life after basketball" a year early.  But, there are plenty of leaders on this team and none more important to his team (maybe to any team in the county) than 5'9″ senior Juice Thompson.  Thompson, who has started every game of his college career and played over 93% of Northwestern's minutes last year, is a phenomenal point guard.  Last year, he posted a 14.2 ppg average, a 2.4:1 assist-to-turnover rate, 88 three-pointers (41%), and 83% free throw percentage.  The guy is a star.  But, he's not the only one.  The 6'8″ junior forward John Shurna lit it up last year inside and out, averaging over 18 ppg.   And, sophomore swingman Drew Crawford had an excellent freshman season and is ready to take another step this year.  The Wildcats also will get versatile 6'6″ senior forward Jeff Ryan back from an injury last year.  And, maybe most importantly, they have added the metro-Atlanta high school player of the year, JerShon Cobb, to the mix as a coup of a recruit.  Like I said, this team has all the pieces to end a Cubs-like drought for the Chicago institution, but are Thompson, Shurna, and Crawford enough to exorcise those demons?
Penn State
If there are two things that will bring a typically irrelevant college basketball program to relevancy – even if only for one year – they are (a) a load of seniors and (b) one special player.  Penn State has both of those things this year, so despite their disastrous season last year, I believe that this team
can be relevant in a loaded Big Ten this year (much to the delight of my BSB compadre, Doogan).  It all starts with Talor Battle.  Battle is a stud, who will be playing professionally next year, somewhere, and it might even be The Association.  Battle is a do-it-all guard who has the ability to the be the best player on the floor on any given night.  When you have that, you've got a chance.  But, it's not just Battle, as the Nittany Lions throw out three other seniors with a wealth of Big Ten experience under their belts (the 4 seniors have combined for 301 starts in the college careers).  David Jackson can score in bunches from the perimeter and, though he's only 6'6″, is more than willing to mix it up down low with anyone on the defensive end.  6'10" Andrew Jones is a true back-to-the-basket player, who has the size and strength to make a difference.  He just has to be more consistent and take charge in the box.  Jeff Brooks has all the size and talent to be a star, he just has never really put it together.  Shot selection and defensive intensity have been real concerns for a 6'8″ wing who seems to prefer to take ill-advised jumpshots over driving to the basket and taking a hit.  If Brooks can learn to use his talents, he could be an excellent option.
The Irrelevants
As surprising as it is to see Northwestern and Penn State populate the "Relevants" category, it is eve more surprising to see Indiana as "Irrelevant," but that is the case.  Iowa and Michigan should also struggle mightily this year, although Iowa is at least going in the right direction.
Indiana

.  Man, it's hard to talk about Indiana as being irrelevant, but that is what Mike Davis and, moreso, Kelvin Sampson have done to this program.  But, have no fear, Hoosier fans, the irrelevancy will not last long because you guys have one of the absolute best at the helm.  Tom Crean will turn this ship around in no time – maybe even sooner than people think.  If it's going to happen, it's going to happen because of Maurice Creek, the do-everything sophomore guard who only played in 12 games before injury cut his freshman year short.  But, those 12 games were very impressive, as he led all freshmen in the country in scoring at the time of his injury.

Iowa

.  The Hawkeyes have a new coach, and he's a good one.  Philly's own Fran McCaffery has landed in Ames to try and bring the Iowa back to prominence after the failed Todd Lickliter Era.  He's got some talent to do so, but it might take a year or two.  Sophomore Cully Payne was the Big Ten Freshman of the Year last year.  Junior Matt Gatens was on the All-Freshmen Team two years ago, and sophomore Eric May joined Payne on last year's All-Freshmen Team.  So, there's a decent, young nucleus around which McCaffery can build, but he took a big hit when a really nice recruiting class all deserted Iowa when Lickliter was relieved of his coaching duties.  Either way, I think this team will be okay, but not really in the race at any point…yet.

Michigan

.  John Beilein is good, but I'm not sure he's this good.  Manny Harris and DeShawn Sims are gone, and there is very little left in the cupboard for the great Beilein to work with.  This team is going to struggle mightily.  Thank god for Rich Rod or Beilein's seat might be even hotter.  The only real shot Michigan has is that juniors Zach Novak and Stu Douglass play more like they did as freshmen than as they did as sophomores, and that sophomore Darius Morris can step up and be a true dynamic lead guard.