A month ago we listed the top point guards in college basketball this year, and now we'll move down in the trenches and rank the top big men in the nation.  There might not be a ton of superstar, lottery pick-type big guys out there this year, but there are a ton of quality players.  Just narrowing the list down to 15 was a bit of a challenge.
15. Perry Jones, FR, Baylor:  Jones is probably the highest-rated recruit in Baylor history, but its been a somewhat disappointing start to the season for him and his team.  He's averaging 12.5 points and 8 rebounds, but he sneaks onto this list based on potential.  He's a skilled 6-10 with elite athleticism, and there's a good chance that he could become a dominant force in a month or two.  He will almost definitely be a lottery pick this June.
14. Trevor Mbakwe, JR, Minnesota:  It's been a long road for Mbakwe, who was a freshman at Marquette three years ago before multiple off-the-court incidents had him at a junior college in Florida before he made it back to big-time college basketball.  The rugged, 6-8 PF is averaging 13 points (shooting 62%) and 10 rebounds for a Golden Gopher team that has picked up some good wins and might be the best Minnesota team since Bobby Jackson led them to the '97 Final Four.  He should give them a strong defensive presence in the post which, as we'll see below, will be invaluable in the Big Ten.
13. Kenneth Faried, SR, Morehead State: This 6-8 dread-locked PF looks like he could go from the Ohio Valley Conference to the NBA because he can do one thing that all NBA teams need: rebound.  He leads the nation at 14.3 per game (a year after finishing second in the nation), while also scoring 18 a game.  It can be hard to judge a player in a low-major conference, but Faried put up 20 points/18 boards against Florida and 15/12 against 2nd-ranked Ohio State.  He also averages 2.5 steals and almost 2 blocks.
12. Jordan Williams, SO, Maryland:  Another elite rebounder, at 6-10 and 260 lbs., Williams has the body and the motor to dominate on the glass.  To go along with his 12 rebounds a game, he's also leading the Terps at the offensive end with an 18-point average.  He put up 27 points and 13 boards against Boston College a couple weeks ago.
11. Matt Howard, SR, Butler:  One of the amazing things about Butler's Final Four run last year was that Howard, their 6-8 PF, had a disappointing junior season and an even more disappointing NCAA tournament, when he seemed unable to play a minute without picking up two fouls.  Even though the team has lost four games already this year, Howard has been great.  He's averaging 18 points/8 boards and, for the first time in his career, is stepping out and shooting from distance.  He's hit 14 of 31 3-pt attempts on the year.  It looks like he's also improved his defensive positioning, as he's fouled out just twice in 13 games.  He's also shooting 83% at the foul line.
10. Kawhi Leonard, SO, San Diego State:  Even though he's just 6-7, Leonard's averaging 9.5 rebounds, after averaging 10 as a freshman last year.  He's the best player on the 14-0, 7th-ranked Aztecs.  The crafty scorer is averaging 16 a game and very well may be heard from in March.
9. Rick Jackson, SR, Syracuse:  This big and powerful Philly native has lost a lot of excess weight and is one of the most improved players in the nation.  He's raised his rebounds per game from 7 last year to 12, and is chipping in with a 14 point average.  He dominated the glass against Michigan State, with 16 boards and 17 points.  He's also averaging 2 blocks and 2.5 assists for the undefeated Orangemen.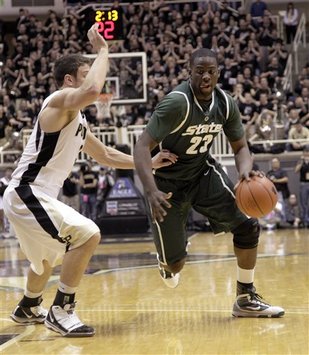 8. Draymond Green, JR, Michigan St.:  Speaking of the Spartans, Green is one of my favorite players in the country.  At a wide-bodied 240 lbs., he looks like a typical power forward, but he can do a little bit of absolutely everything on a baskeball court.  The 12 points and 9 rebounds a game are nice, but Green also provides 3.8 assists, 1.8 steals, and 1.2 blocks a game.  He's surprisingly nimble for his size (which has earned him the nickname The Dancing Bear), which helps him score in the post, but he can also step out beyond the arc, where's he hit 14 of 30 attempts on the year.  It's been a really disappointing start to the year for the Spartans, but Green hasn't been the problem.
7. Keith Benson, SR, Oakland:  One of the few true centers on the list, the slender, 6-11 Benson is one of the best mid-major players in the nation.  He's averaging 17 points, 10 rebounds, and 3 blocks.  Oakland has played a brutal schedule so far and Benson has had some of his best games against top teams.  He put up 22 points/15 boards against West Virginia, 16/14 against Purdue, 17/12/4 blocks against Michigan St., and 26/10 in an upset of Tennessee.  In a win over Austin Peay, Benson had a ridiculous line of 22 points, 22 rebounds, 6 blocks, and 7 assists.  With some added strength, he's a potential NBA starter.
6. Tyler Zeller, JR, North Carolina:  Usually players at schools like North Carolina are overrated (see: Barnes, Harrison), but this 7-foot junior is actually the opposite.  His injury problems have been well-documented, but it seems like the injuries have been fluke things and that he won't necessarily follow in the footsteps of other 7-footers (see: Oden, Greg) that can never stay healthy.  He's finally healthy this season, and he's getting a chance to show what he can do, averaging 15.5 points, 8 rebounds, and 1.3 blocks for the Tar Heels.  But there's another reason he's still underrated, besides the injuries, and that is that he hasn't had a decent point guard to play with over the last two seasons.  The UNC guards have been abysmal playmakers, and for a post player like Zeller, that really limits his production.  You don't see many 7-footers that move as well as this guy, that can hit mid-range jump shots, and shoot 75% at the line.
5. Marcus Morris, JR, Kansas:  The second Philly native on this list, the 6-8 Morris is big, strong, and agile.  He's the kind of guy that looks like he could dominate as an NFL tight end.  At times last year he was the best player on a team that featured Sherron Collins and Cole Aldrich, and that entered the tournament as the favorites to win the title.  He's got that rare combination of size and quickness that is difficult to guard near the basket, and he has range out to the 3-point line.  He's leading the unbeaten Jayhawks in scoring (15.5) and averaging 6 rebounds.  He may not start the next couple games after throwing a vicious elbow against Cal, but he'll be back in there soon enough.
4. Jon Leuer, SR, Wisconsin:  This is the type of big man that we've come to expect at Wisconsin: one that can step outside and consistently knock down jump shots.  But Leuer may be the best one they've had in a while.  The 6-10 PF is averaging 20 points and 7.5 rebounds for the Badgers, and he's made 32 3's through 13 games, shooting 49% from behind the arc.  He has a complete offensive game, with the ability to post up or hit from mid-range as well.  There may be better big men in the Big Ten (see below), but there aren't any with a more well-rounded offensive repertoire than Leuer. 
3. Derrick Williams, SO, Arizona:  This athletic 6-8 PF had a really nice freshman season, but not many noticed because Arizona (and pretty much the whole Pac-10) was not very good.  This year, Zona is off to an 11-2 start and looking like an NCAA tournament team, and it's mostly thanks to Williams.  He's averaging 19 points, shooting 63% from the field, and he's hit a ridiculous 13 of 19 3-pointers.  He's also averaging 7 rebounds.  He matched his season high scoring total in a road game at Kansas, putting up 27.  Guys with his size and skill tend to go early in NBA drafts, and this is starting to look like it will be Williams's last season at the college level.
2. JaJuan Johnson, SR, Purdue:  Johnson is a long-armed, skinny 6-10 center who's production has steadily increased throughout his very successful career at Purdue.  He's an impressive leaper with good touch around the basket and good range out to 18 feet.  He's averaging 20 points, 8 boards, and 2.3 blocks for the Boilermakers this year.  He put up 25 points, 11 boards, 5 assists, 4 steals, and 2 blocks against a solid Oakland team, and he scored 29 points at Virginia Tech in the ACC/Big Ten Challenge.  He even hit a 3-pointer in each of those games, which is something he never did in his first three years.  He's still not a threat from out there (4-17 on the year), but he's obviously trying to expand his game in hopes of making it at the next level.  The most important thing is probably adding some muscle, but he might just be the kind of guy that will always be a bit too thin to bang with NBA power forwards.
1. Jared Sullinger, FR, Ohio State:  Speaking of too thin, that is a problem that Jared Sullinger will never have.  At 6-9, 280 lbs., he doesn't look like a guy that was playing in high school less than a year ago.  Analysts seem to love to talk about his butt, which is kind of creepy, but the point is that he is a fearsome back-to-the-basket (maybe butt-to-the-basket?) scorer that can clear space out under the rim to score or rebound.  He's averaging 18 points and 10 boards, which aren't numbers that blow you away, but consider that he's doing it for a team that is very much a title contender.  His season highlights include 26 points/10 boards at Florida in his second collegiate game, 30 points/19 boards against South Carolina, and 40 points against IUPUI.  If Duke's Kyrie Irving misses the rest of the year with his toe injury, the Buckeyes will possibly enter the tournament as the favorites to win it all.  If they can pull it off, Sullinger would be the first freshman to be the best player on a title team since Carmelo Anthony at Syracuse in '03.  I wouldn't bet against him.
Honorable Mentions:
Quincy Acy, Baylor: Teaming with Perry Jones in a tough Baylor frontcourt.
Chris Wright, Dayton
Markieff Morris, Kansas:  Teaming with his brother
Lavoy Allen, Temple:  Bit of a disappointing start to his season, but he's still pulling down 10 boards a game
Justin Harper, Richmond: 6-10 and can shoot it
Aaric Murray, La Salle: Maybe topping Allen as best big man in the Big Five
Trey Thompkins, Georgia
Marshall Moses, Oklahoma St.