Andy Reid was officially fired by the Eagles today and, honestly, it was a year too late.  With all the talent they had assembled for last year's team, 8-8 was just not good enough.  This season's epic failure confirmed the conclusions that many Eagles fans had already made before the 2012 team stepped on the field: it was time to move on from the Reid era.
But in the wake of all the Andy-hating that has been so easy over the last couple of years, let's not forget what he accomplished here, nor lose sight of what his legacy should be.
Most "Andy Reid as Eagles coach" retrospectives will start with the day he (along with others in the front office) chose Donovan McNabb with the second pick of the 1999 draft.  Reid would go into his first season with his Quarterback of the Future waiting in the wings and ready to team up with him to pull the Birds out of the downward spiral they'd been put into by Ray Rhodes.
But for me, the real beginning of the Reid era was about 18 months later.  I had just arrived at college to start my freshman year.  A few days later, I got together with some other Eagles fans, in a dorm room, to watch the first game of the year, which happened to be against Dallas.  At the time, Dallas was not too far removed from their mid-90's dominance and they were, without a doubt, the team I hated more than any other in the world.  It was still, after all, Troy Aikman and Emmitt Smith in the Cowboy backfield.
The game was starting with an Eagles kickoff and, suddenly, an onside kick!??  Who starts off a game, let alone a season, with an onside kick?  I'll never forget the message I felt Andy Reid was sending, not just to the Cowboys and the NFL, but to us fans:  "I may be soft-spoken and never been a head coach at any level before this job, but I am not afraid to take big risks.  I'm not here to coach an average team, I'm here to do something special."  The Eagles, coming off three straight horrible seasons,  recovered that onside kick and went on to win that game (in Dallas) 41-14.  And I never stopped believing in Andy Reid as coach of the Eagles, until over 11 years later.
Just like that, they were a playoff team in his second year.  The next year, to the NFC Championship Game, where they hung tough with the "Greatest Show on Turf" Rams.  They were on their way!  Next step to the Super Bowl!
The first bump in the road: a second straight NFC Championship, but a loss to Tampa Bay.  The second-toughest loss of my life.  Wasn't the next step in this rise supposed to be WINNING the conference championship?  The next year, THE toughest loss of my life, again in the NFC Championship game, this time to the Panthers.  We're stalled, we thought, but Andy and this team will get us over the top.  Just a matter of time.
2004:  The one thing we lacked was a big-time receiver.  Andy (and yes, the front office) went and got Terrell Owens.  Now we're killing EVERYBODY.  Into the playoffs, to the NFC Championship Game yet again: and we beat Atlanta (and Michael Vick)!  The second-best win of my life (see: Phillies, 2008).  I went rolling in the snow outside because I didn't know what else to do.  Andy's taking us there!  The Super Bowl!
That was supposed to be one more step to the top.  We'd stalled a bit at the Championship Game level, but now we were back on track to that first Super Bowl win.  But, it turned out, that was as high as we would go.  As high, it turns out, as Andy Reid could get us.
After a gut-wrenching loss to the Patriots in that Super Bowl, there was a hangover season.  6 wins.  And yes, we were back in the playoffs in '06, back in that familiar NFC Title game in '08 (after a 9-win regular season), and had an 11-5 season in '09.  But really, that upward climb, which Andy Reid had led, came to an end in Jacksonville, at Super Bowl XXXIX.
I had hope that Reid could follow the path that Bill Cowher had with the Steelers, where he finally broke through with a Super Bowl win in his 14th year as their coach.  It didn't happen.  I believed in Reid as an NFL coach, and I still do in many ways.  He was, without a doubt, the best coach in Eagles history, even if that's not saying a whole lot.  But with 12 wins combined in the last two years, it was very clearly time to move on.
It was fitting and, I suspect not a coincidence, that Andy decided to start off his LAST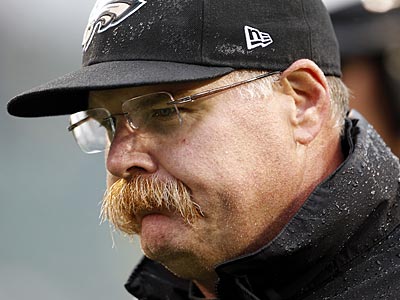 game the way he started the one that began that climb back in 2000: with an onside kick.  Just like in 2000, the gamble worked and the Eagles recovered.  But, in case anyone was mistaking this for those better times, Vick promptly threw an interception and the Eagles were on the opposite end of a rout to a division rival.
I'm glad Andy Reid was fired, but I'm also glad we had him as a coach.  He took the team from nowhere to as close as you can get to a championship, without getting one.  And he went out, in his last game, the way he came in: unafraid and willing to do whatever it took, for better or worse, to get a win.
The search is on for the man that can again pull the Eagles out of a tailspin but, maybe this time, take them all the way to the top.