NOTE:  This was written and intended to be published at the end of the 2014 MLB regular season, but due to technical difficulties, we couldn't get it up until now.  But, with the 2015 season upon us, it seems like a good time.
++++++++++++++++++++++
To get us warmed up, the BBWA has just announced their 2014 MLB Postseason Awards.  And, that's cute and all, but let us get to the real awards:  the 2014 BSB MLB Awards.  We had an esteemed panel of 7 voters this year, who are very astute and knowledgeable baseball men, vote on 18 different awards.  So, without further ado, let us reveal this year's winners.
NL MOST VALUABLE PLAYER:  Giancarlo Stanton
In one of the closest votes we have ever had here for the BSB Awards, Giancarlo Stanton edged out Pirates centerfielder, Andrew McCutcheon, by just 2 points.  Those two were the only two that were on all seven ballots, and both received three first-place votes.  In fact, these two were 1-2 on six of the seven ballots.  The only difference was the one ballot that didn't have them 1-2 had Stanton #2 and McCutcheon #4.  Even though the voting occurred before the postseason started, Buster Posey came in at #3, with the BBWA choice, Clayton Kershaw, finishing 4th (though, he did garner the only 1st-place vote not for one of the top two).
My ballot had McCutcheon #1 and Stanton #2.  I followed that with a pair of catchers at #3 and #4– Jonathan Lucroy and Buster Posey.  Nationals breakout star, Anthony Rendon, was my #5.  And, I had to add Andrelton Simmons at #6 because he might be the only shortstop that I have ever seen that I would even mention in the same breath as Omar Vizquel and Ozzie Smith, defensively.  I left off Clayton Kershaw because I feel strongly that you have to play more than one-fifth of your team's games to be considered the "most valuable player in the league."  Period.  I wasn't alone on that, as two others also left Kershaw off completely.
Giancarlo Stanton (3) – 66 (7)
Andrew McCutcheon (3) – 64 (7)
Buster Posey – 43 (6)
Clayton Kershaw (1) – 34 (4)
Anthony Rendon – 27 (4)
Jonathan Lucroy – 21 (3)
Yasiel Puig – 7 (1)
Todd Frazier – 6 (1)
Josh Harrison – 6 (1)
Anthony Rizzo – 6 (1)
Andrelton Simmons – 5 (1)
AL MOST VALUABLE PLAYER:  Mike Trout
The best player on the planet fell one point short of a unanimous selection, garnering six 1st-place votes and one 2nd-place vote.  Victor Martinez was a distant 2nd in the voting.  Nelson Cruz finished 4th, but received the only non-Trout 1st-place vote, even though he only appeared on three of the seven ballots.  There were a whole lot of entries here, as 15 different players appeared on at least one ballot, only two of whom made it on more than four.  Yeonis Cespedes received a 5th-place vote for the sheer fact that the A's were the best team in the league with him and the worst team in the league without him – maybe he is the "most valuable" player.
Trout was, obviously, my pick for this award.  I agree with the final results for 2nd and 3rd, as well, as I had Martinez at #2 and Brantley at #3.  I swayed from the voters after that, going with the always-overlooked, Jose Bautista, at #4, the rookie sensation, Jose Abreu, at #5, followed by the breakout star (offensively and defensively), Josh Donaldson, at #6, and Robinson Cano at #7.
Mike Trout (6) – 69 (7)
Victor Martinez – 52 (6)
Michael Brantley – 31 (4)
Nelson Cruz (1) – 24 (3)
Jose Abreu – 24 (3)
Robinson Cano – 23 (3)
Josh Donaldson – 18 (3)
Felix Hernandez – 11 (2)
Alex Gordon – 8 (1)
Jose Altuve – 7 (1)
Jose Bautista – 7 (1)
Adam Jones – 7 (1)
Nelson Cruz's Doctors – 7 (1)
Miguel Cabrera – 6 (1)
Yeonis Cespedes – 6 (1)
NL CY YOUNG:  Clayton Kershaw
In a completely unanimous vote, Clayton Kershaw walks away with another Cy Young.  Johnny Cueto, who was the only other pitcher to even appear on every ballot, finished 2nd.  Adam Wainwright was 3rd in a race that was clearly only down to three guys.  In fact, this was the most clear-cut race of all, as the top 5 guys were all on more than half the ballots, and only eight pitchers even received a vote.
I agree with the top 3, as I went Kershaw, Cueto, Wainwright as #1,2,3.  I considered bumping Wainwright ahead of Cueto, but in the end, Cueto just had a better season.  Madison Bumgarner (for his regular season performance) was 4th for me, as I value innings pitched immensely.  Jordan Zimmermann and Cole Hamels rounded out my ballot.
Clayton Kershaw (7) – 70 (7)
Johnny Cueto – 60 (7)
Adam Wainwright – 51 (6)
Jordan Zimmermann – 30 (5)
Madison Bumgarner – 28 (4)
Zach Greinke – 20 (3)
Cole Hamels – 12 (2)
Doug Fister – 7 (1)
AL CY YOUNG:  Felix Hernandez
BSB disagrees with the BBWA on this one, as King Felix takes home our Cy Young Award in a race that wasn't really all that close.  The King got five of the seven 1st-place votes and the other two votes were 2nd-place votes.  In fact, BBWA choice, Cory Kluber, barely held off Chris Sale for 2nd place in our vote.  Not that we didn't recognize the greatness of Kluber, as he, Felix and Sale were all on all seven ballots.  Those three constituted, in some order, the three top spots on all seven ballots.  Down the list, you can see the Bawlmer homerism, as Chris Tillman and Zack Britton both appear on Cy Young ballots.
Personally, I wanted to vote for Kluber because I really like him and love his stuff, but the season that King Felix put together was just way too good to vote for anyone else.  I tried to talk myself into Kluber, but couldn't.  I did have Kluber 2nd, ahead of Sale, because of innings pitched.  The top three were obvious.  After that, I had Jon Lester at #4 and the 5'11" Sonny Gray at #5.  I also gave David Price (underrated season) a 6th-place vote and threw a bone to Phil Hughes at #7 for an incredibly under-the-radar season.
Felix Hernandez (5) – 68 (7)
Cory Kluber (1) – 61 (7)
Chris Sale (1) – 60 (7)
Jon Lester – 27 (4)
 Garrett Richards – 20 (3)
Sonny Gray – 13 (2)
Max Scherzer – 12 (2)
Chris Tillman – 6 (1)
Zack Britton – 5 (1)
David Price – 5 (1)
Phil Hughes – 4 (1)
NL ROOKIE OF THE YEAR:  Jacob de Grom
The Mets rookie sensation, Jacob de Grom, burst on the scene this year and takes with him the coveted BSB NL Rookie of the Year award.  de Grom received six of the seven first-place votes.  Billy Hamilton was the only one even close, but he did not get a single first-place vote, as the one ballot on which de Grom was 2nd, he lost out to a rookie broadcaster.  Nice to see Chris Zanzarella – a rookie BSB participant – get a vote, as well as Yours Truly.
I voted for de Grom at #1, but actually had future Phils closer, Ken Giles, at #2.  I then went with Kyle Hendricks, who may have only started 13 games for the Cubbies, but he was dominant in those 13.  Billy Hamilton and his sub-.300 OBP was 4th, followed by Kolten Wong and Ender Inciarte.
Jacob de Grom (6) – 69 (7)
Billy Hamilton – 60 (6)
Ken Giles – 31 (4)
Kolten Wong – 21 (3)
Kyle Hendricks – 16 (2)
Gregory Polanco – 16 (2)
Ender Inciarte – 11 (2)
Steve Berthiaume (1) – 10 (1)
Chris Zanzarella – 7 (1)
David Buchanan – 6 (1)
Bryan Cimorelli – 6 (1)
Jorge Soler – 6 (1)
AL ROOKIE OF THE YEAR:  Jose Abreu
In the only unanimous vote other than Kershaw, Jose Abreu walks away with the AL Rookie of the Year award without contest.  In fact, his 19-point margin over 2nd-place Masahiro Tanaka was the 2nd-largest margin of victory in any award this year behind only AL Manager of the Year.  After Abreu, it was a slew of hurlers, as 2nd through 6th place were all pitchers.  Tanaka was the only other player to make it to all seven ballots.  Yordani Ventura fell one short, landing on six of the seven.  This was actually a pretty clean election, as there were only 8 players that received votes, seven of whom showing up on at least three ballots.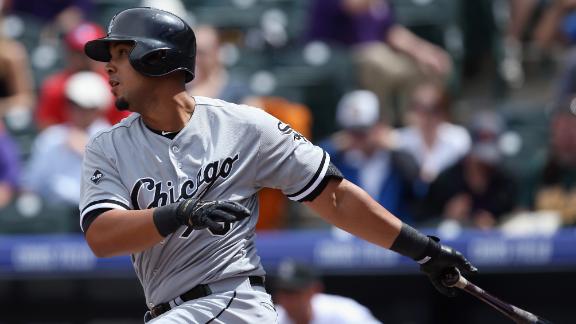 Abreu led my 7-person ballot.  I actually considered going Matt Shoemaker ahead of Abreu, considering he was the ace of the best team in baseball, but Abreu's numbers were insane.  Shoemaker was my #2 followed by future Astros ace, Colin McHugh, current Yankees ace, Masahiro Tanaka, future Royals ace, Yordani Ventura (who is definitely my favorite rookie to watch), and future Yanks closer, Dellin Betances.  The Twins' .313-hitter, Danny Santana, rounded out my ballot.
Jose Abreu (7) – 70 (7)
Masahiro Tanaka – 52 (7)
Yordani Ventura – 45 (6)
Colin McHugh – 31 (4)
Dellin Betances – 28 (4)
Matt Shoemaker – 21 (3)
Danny Santana – 17 (3)
George Springer – 8 (1)
NL MANAGER OF THE YEAR:  Clint Hurdle
A pretty hotly contested Manager of the Year race here in the NL ends with Clint Hurdle of the Pirates winning the award thanks to being on five of the seven ballots with three first-place votes (both highs for anyone).  World Champion, Bruce Bochy, finishes second, though Boot made a good point in his ballot as to why he was voting for Bochy (and, this was before the postseason run):  "In 15 years, we will look back at the Giants' rosters and say Posey is a HOF'er, and that may be it…"  Rookie manager, Matt Williams, finished 3rd followed by Cards 2nd-year man, Mike Matheny.  Interestingly, though there were only 15 NL managers from which to choose, the seven ballots still tabbed four different managers as their top choice.  We also had "negative" votes for Don Mattingly and Kirk Gibson – apparently, they should be 14th and 15th, respectively, in the NL manager pecking order.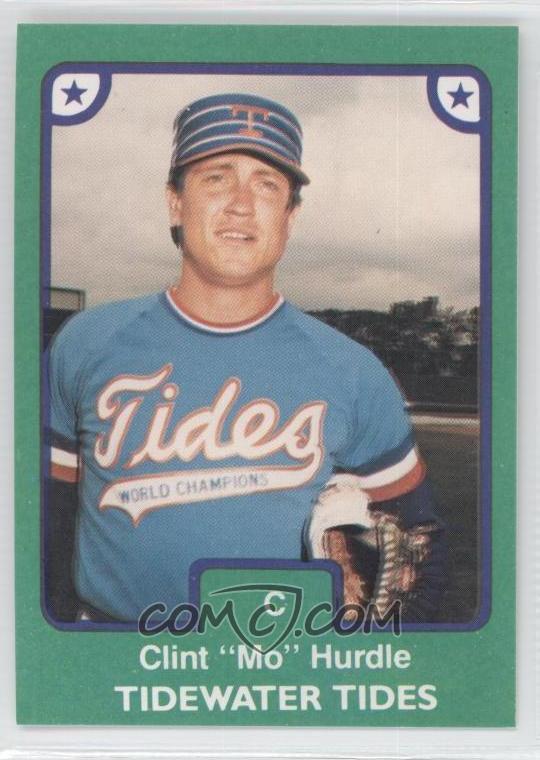 I did vote for Hurdle as my #1, but I went Matheny #2.  I originally had Ron Roenicke at #3, but Boot's comment above swayed me to throw my 3rd-place vote to Bochy.
Clint Hurdle (3) – 23 (5)
Bruce Bochy (2) – 19 (5)
Matt Williams (1) – 16 (4)
Mike Matheny (1) – 12 (3)
Terry Collins – 4 (1)
Don Mattingly – 3 (1)
AL MANAGER OF THE YEAR:  Buck Showalter
BSB agrees with the BBWA here, as Uncle Buck wins this award in a landslide.  Garnering six of the seven 1st-place votes, with the only non-1st as a 2nd-place vote, Buck had, by far, the largest margin of victory here, as his 21-point victory came in an award that only granted 5 points for 1st instead of the usual 10.  Terry Francona finished a distant 2nd with Ned Yost coming in 3rd with the only other 1st-place vote.
I went with Buck at #1 and Yost at #2 (even though I don't really support Neddy's managing style, you have to hand it to him in accomplishing that much with such sparse resources).  My 3rd choice was Lloyd McClendon, who did a great job out in Seattle this year.  I strongly considered Terry Francona, but I think McClendon had a harder time turning around that franchise, but it is close.
Buck Showalter (6) – 34 (7)
Terry Francona – 13 (4)
Ned Yost (1) – 13 (3)
Lloyd McClendon – 7 (2)
Joe Girardi – 6 (2)
Mike Scioscia – 4 (1)
NL BIGGEST SURPRISE:  Josh Harrison
A BSB category here, as we all voted on who we thought were the biggest surprises of the year in the Senior Circuit.  There are always some interesting answers to this one, and a lot of different choices.  There is no real stated criteria, which makes it fun and interesting.  The Pirates' Josh Harrison and Nats' Anthony Rendon both appeared on five of the seven ballots and finished 1-2 here in our voting.  Harrison was the only player to get multiple 1st-place votes, as he received three of them.  Rendon did not have any.  Four others received one 1st-place vote each, including Ryan Howard, who got one for not being "completely finished."  Doogan pegged Justin Turner in the 5-spot, which forced me to look up his numbers only to learn the kid hit .340 this year with a .404 OBP.  Wow…who knew?!?
I was the one who voted Jonathan Lucroy at #1, as he became a total star, and I never saw that coming.  Rendon and Harrison followed at #2 and #3 for me.  Corey Dickerson, #4 for me, had a .931 OPS over nearly 500 PAs and seems to be completely anonymous (maybe it's the Coors factor).  The Mets' shortstop, Juan Lagares, who came out of nowhere to flash as one of the best defensive SSs in the game (and had a OBP 30 points higher than the esteemed Billy Hamilton), was #5 for me.  Anthony Rizzo, who finally showed his real potential was #6, while Phils surprise, Marlon Byrd, cracked my list at #7.
Josh Harrison (3) – 47 (5)
Anthony Rendon – 41 (5)
Jonathan Lucroy (1) – 31 (4)
Anthony Rizzo (1) – 22 (3)
Devin Mesoraco – 14 (2)
Juan Lagares – 12 (2)
Johnny Cueto (1) – 10 (1)
Ryan Howard (1) – 10 (1)
Marlon Byrd – 9 (2)
Charlie Blackmon – 9 (1)
Lucas Duda – 9 (1)
Matt Kemp – 8 (1)
Ben Revere – 8 (1)
Corey Dickerson – 7 (1)
Tim Hudson – 7 (1)
Tanner Roark – 7 (1)
Denard Span – 7 (1)
Justin Turner – 6 (1)
AL BIGGEST SURPRISE:  Phil Hughes
Do you know that, with 186 strikeouts and only 16 walks in 2014, Phil Hughes set the all-time Major League record for K:BB ratio in a single season?  Ya, me neither.  Well, that sure constitutes a "surprise," and he won the AL's Biggest Surprise award here in 2014, grabbing two 1st-place votes and appearing on five ballots.  Cory Kluber (one 1st-place vote) was also on five ballots, while Jose Altuve also garnered a pair of 1st-place votes.  Michael Brantley and Albert Pujols received the other 1st-place votes.
Phil Hughes was my runaway pick for this, as I always thought he was terrible, so this year was quite the shock for me.  JD Martinez was my #2 for the importance he provided – out of nowhere – for the Tigers.  A couple of MVP candidates followed with Michael Brantley at #3, Jose Abreu at #4, and Jose Altuve at #5.  Brandon McCarthy was #6 because he looked finished before going to the Yanks.  And, finally, I had Cory Kluber at #7.  He was only so low because I am not that surprised he is this good, I am just surprised he is this good this soon.
Phil Hughes (2) – 39 (5)
Cory Kluber (1) – 36 (5)
Jose Altuve (2) – 32 (4)
Nelson Cruz – 27 (3)
Michael Brantley (1) – 26 (3)
JD Martinez – 22 (3)
Steve Pearce – 17 (2)
Jose Abreu – 15 (2)
Albert Pujols (1) – 10 (1)
Brock Holt – 9 (1)
Matt Shoemaker – 9 (1)
Miguel Cabrera – 8 (1)
Chris Carter – 8 (1)
Derek Jeter – 7 (1)
Carlos Carrasco – 6 (1)
Chris Young – 6 (1)
Brandon McCarthy – 5 (1)
NL BIGGEST DISAPPOINTMENT:  B.J. Upton
In the closest race of all, BJ Upton edges division rival, Dom Brown, for the NL's biggest disappointment.  It is hard to argue with either, as they were both absolutely dreadful.  The top two were the only two to appear on more than half the ballots, with Upton pacing the field with three 1st-place votes.  Pedro Alvarez edged Jay Bruce for 3rd.  "Beards" got a write-in vote for this category, as Boot feels very disappointed with the abundance of facial hair in the National League these days.  Surprisingly, Ryan Howard was only on one ballot, in 3rd place.  I guess the expectations for him are pretty low these days.  After the top 4, Joey Votto was the only other player to receive a first-place vote.  Interestingly, one of my MVP votes, Andrelton Simmons, received a 3rd-place vote here.  Thoughtful minds really can disagree, though I totally understand the rationale.  Obviously, someone is either a huge Tony Cingrani fan or had him on their fantasy team and felt very let-down.
With a 1-point difference, every ballot with Upton over Brown was the deciding factor, but I definitely played a part here, as I had Upton #1 and Brown #2.  I followed the voters and went Alvarez #3.  I had David Wright #4 because why isn't this guy a star?  Jonathan Papelbon – for many, many, many reasons – got my 5th-place vote.
BJ Upton (3) – 36 (4)
Dom Brown (1) – 35 (4)
Pedro Alvarez (1) – 27 (3)
Jay Bruce (1) – 26 (3)
Allen Craig – 16 (2)
Curtis Granderson – 14 (2)
David Wright – 14 (2)
Joey Votto (1) – 10 (1)
beards – 9 (1)
Justin Masterson – 9 (1)
Jean Segura – 9 (1)
Ryan Howard – 8 (1)
Andrelton Simmons – 8 (1)
Tony Cingrani – 7 (1)
AJ Burnett – 6 (1)
Shelby Miller – 6 (1)
Jonathan Papelbon – 6 (1)
AL BIGGEST DISAPPOINTMENT:  Chris Davis
I guess a guy who hits 50 HRs one year and then has a sub-.200 average the next can be seen as a bit of a disappointment.  Davis and Myers were the the only two to appear on more than half the ballots, though he they received one first-place vote between them.  Clay Bucholz, who was only on two ballots, got two first-place votes.  Justin Verlander was 3rd on this list.  "Beards" were also a problem in the AL, but only for a 3rd-place vote from Boot.  Instead, the "media" received the 2nd-place vote for endlessly covering the swan song of Derek Jeter, but COMPLETELY ignoring the final year of Paul Konerko's career (which, by the way, is a FANTASTIC point – Konerko might be the most underappreciated player of our generation).  Justin Masterson – impressively – showed up on the disappointment lists in both leagues.
I was the only one to vote for Evan Longoria, but I had him #1.  What a mediocre year for a guy who should be anything but mediocre.  Verlander was 2nd for me, followed by Xander Boegarts, Wil Myers, and Justin Masterson (who I thought was more disappointing for Cleveland than St. Louis) was 5th.
Chris Davis (1) – 32 (4)
Wil Myers – 30 (4)
Justin Verlander (1) – 28 (3)
Clay Bucholz (2) – 20 (2)
Brian McCann (1) – 19 (2)
Xander Boegarts – 17 (2)
Prince Fielder (1) – 16 (2)
Jim Johnson – 15 (2)
CC Sabathia – 14 (2)
Evan Longoria (1) – 10 (1)
Josh Hamilton – 9 (1)
the media – 9 (1)
beards – 8 (1)
Joe Nathan – 8 (1)
Sin-Soo Choo – 7 (1)
Jason Kipnis – 7 (1)
Justin Masterson – 6 (1)
Mark Teixeira – 6 (1)
NL BIGGEST SURPRISE (team):  Miami Marlins
The Marlins were supposed to be dreadful.  They weren't.  That was surprising.  They have a stable of young fireballers, so they might be a real handful in the NL East for years to come.  Those pesky Pirates finished right behind the Marlins, followed by the Brewers – all of whom were on 4 ballots.  No other team even cracked more than one ballot.  Apparently, one of our voters is still stuck in 2012, as the Astros received a vote here in the NL. The Giants got a 15th-place "not surprised at all vote" because "they are always good every other year."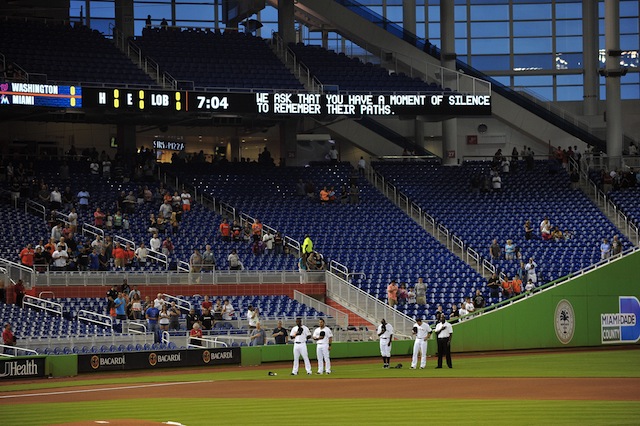 Personally, I thought the Brewers were the most surprising team.  They had a really bad last month and a half, but were the NL's best team for a long stretch with basically no one.  Not sure if I believe in them going forward, but they had a solid 2014, in my opinion.  I put the Pirates 2nd, as I was impressed by their follow-up season after prosperity.  The Marlins were 3rd for me.  Maybe I just had heard of all these arms and wasn't shocked by their slightly ahead-of-schedule arrival.  Still a scary team, though.
Marlins (3) – 22 (4)
Pirates (1) – 20 (4)
Brewers (2) – 16 (4)
Astros (1) – 5 (1)
Padres (1) – 5 (1)
Giants – 4 (1)
Nationals – 4 (1)
Rockies – 4 (1)
Mets – 3 (1)
Giants – negative 5 (1)
AL BIGGEST SURPRISE (team):  Kansas City Royals
Even before the thrilling playoff run (as these ballots were cast before the playoffs started), the Royals were the runaway choice for this award, appearing on all seven ballots with five first-place votes.  The Orioles were on six ballots and got the other two 1st-place votes as no other team was even close to these two.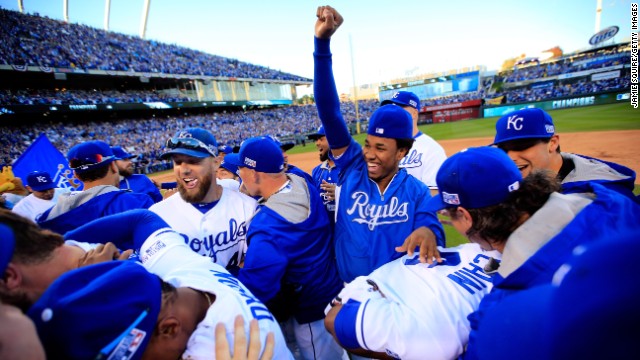 I was a part of this belief, as I had the Royals at #1 and the O's at #2.  My 3rd choice was the Mariners because I just found their contention in a really tough division a little more surprising than some of the other teams around the Junior Circuit.
Royals (5) – 33 (7)
Orioles (2) – 23 (6)
Yankees – 8 (2)
Indians – 7 (2)
Angels – 4 (1)
Mariners – 3 (1)
Red Sox – 3 (1)
NL BIGGEST DISAPPOINTMENT (team):  Atlanta Braves
Picked by many to win the East and most to make the playoffs, the Braves were barely even competitive.  They have a ton of talent, but couldn't put it together.  It was a bad year in Hotlanta, and I loved it.  They appeared on six of the seven ballots and got two 1st-place votes here.  The Reds actually got three 1st-place votes, but were only on five ballots and finished 2nd.  The Phillies were a distant 3rd (surprisingly, without a single 1st-place vote – kind of shows the lack of expectations for this last-place bunch).  The two other 1st-place votes actually went to my "biggest surprise," the Brewers, and my pick in this category, the D'backs.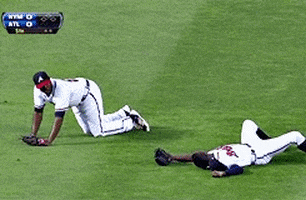 As much as I hate the Braves and love that they won this, I think the absolutely terribleness of the D'backs (a team that some thought might compete) was my biggest disappointment.  I mean, the Braves were at least around .500.  The D'backs were AWFUL.  The Braves got my #2 vote and my Phillies were my #3.
Braves (2) – 26 (6)
Reds (3) – 22 (5)
Phillies – 10 (3)
Brewers (1) – 8 (2)
D'backs (1) – 8 (2)
AL BIGGEST DISAPPOINTMENT (team):  Boston Red Sox
I guess it's pretty hard to argue when a team wins the World Series one year and is among the worst teams in all of baseball the next that they are the biggest disappointment.  So, it seems like the BSB voters got this one right.  The Sox were on six of the seven ballots with five 1st-place votes.  The Rangers and A's got the other two 1st-place votes, while the Rays and Yankees were both on more than half of the ballots.  Interestingly, the Yankees were on four ballots for most disappointing and two ballots for biggest surprise.  There is nothing in between when it comes to people's opinions of the Bombers.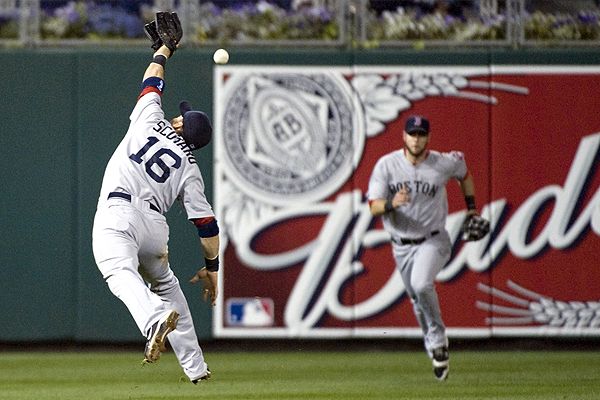 I actually went Rangers here because they were so bad, so fast, that a very promising season was done by May.  The Red Sox were quite disappointing, for sure, and got my 2nd-place vote, though I strongly considered the Rays (my 3rd-place vote) as even more disappointing, for some reason.  It was a strong field for this award this year.
Red Sox (5) – 29 (6)
Rangers (1) – 19 (5)
Rays – 13 (4)
A's (1) – 8 (2)
Yankees – 4 (4)
Blue Jays – 4 (1)
MLB BRIGHTEST FUTURE:  Los Angeles Dodgers
This category was defined as the team that will have the most WS titles between 2015 and 2035.  The Dodgers barely edged the terrible 2014 Red Sox.  The terrible 2014 Cubs finished 3rd..  The Cardinals were the only team to get more than one 1st-place vote, as they appeared on two ballots, but were #1 on both of them.  In general, the voting was all over the place here.  This was a very interesting category.  And, despite the polarized feeling about the Yankees, they were only on one ballot and were 4th place on that ballot.
I was one of the two people to vote for the Cardinals.  They are the best-run franchise in baseball (and maybe all of sports).  They build from within, know when to walk away, but aren't afraid of paying what it takes to keep/acquire the right player.  They just do it right, and I don't see why that would change, particularly as they play in a division without a lot of big-spenders or well-run organizations.  I had to go with the Dodgers 2nd just because of the enormous bankroll they seem to have.  The Angels were my 3rd pick because of the money they throw around.  The Giants – the 2nd-best run organization in the sport – got my 4th-place vote.  I did throw in the Red Sox and Cubs at the end of my ballot because they both have a ton of money and ELITE farm systems.
Dodgers (1) – 32 (4)
Red Sox (1) – 31 (4)
Cubs – 27 (4)
Nationals (1) – 25 (3)
Cardinals (2) – 20 (2)
Royals – 17 (2)
Astros (1) – 16 (2)
Angels – 16 (2)
Giants – 14 (2)
Orioles (1) – 10 (1)
Indians – 8 (1)
Twins – 8 (1)
Mariners – 7 (1)
Yankees – 7 (1)
Mets – 6 (1)
White Sox – 6 (1)
MLB BIGGEST REBUILD:  Arizona Diamondbacks
The final category was defined as "the team that will go the longest without its next World Series title."  This was also a very interesting category.  It drew a lot fewer responses than the brightest future and the top was more closely packed together.  In fact, the D'backs edged the Phillies by a single point, even though the Phightins were the only team with more than one 1st-place vote.  The Twins, White Sox, and Yankees were the only three teams to appear on both lists.
My ballot here started with the Rays.  I think they had their shot and now they will drift back into being the worst franchise in baseball.  They have no money, and they lost their front office braintrust.  It was fun, but it's over.  The Rockies were my second choice because I do not think they are bright enough to overcome the challenge of building a winner in that cartoon ballpark.  The Padres won't win because they're cheap, so they got my 3rd-place vote.  The Brewers are also somewhat cheap and poorly run, so they were 4th for me.  And, the D'backs got my 5th-place vote because I just don't see their plan.
D'backs (1) – 30 (5)
Phillies (2) – 29 (3)
White Sox – 27 (4)
Padres (1) – 27 (3)
Twins – 23 (3)
Blue Jays – 22 (3)
Brewers – 22 (3)
Yankees (1) – 19 (2)
Rangers (1) – 16 (2)
Rays (1) – 16 (2)
Rockies – 9 (1)