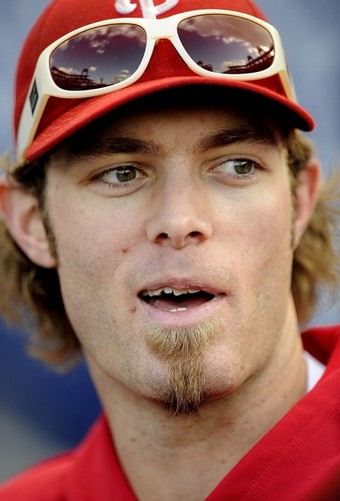 OK, I'm borrowing Bry's "Tell Me I'm Crazy" column here because I definitely think I might be crazy for proposing that the Phillies should trade Jayson Werth this off-season.  Before I make my case, let me acknowledge the multitude of reasons why this might seem like a terrible idea at first glance:
Reason #1:  To put it simply, Jayson Werth is awesome!  I've said that many times over the past year and a half, and I'm not backing down from that stance at all now.  After an injury-plagued start to his career, Werth has emerged as one of the premier right-fielders in baseball.  Much has been made of the "leap" he made this year to 36 homers, but he had a very similar season in 2008, but only hit 24 homers because he had almost 200 less plate-appearances (as a result of platooning with Geoff Jenkins for the first half of the season).  He also led baseball in pitches-per-plate-appearance this year, which not only wears down the opposing pitcher, but also gave him a stellar .373 on-base percentage.
Aside from what he can do with the bat, he's also stolen 40 bases over the last two seasons, while being thrown out 4 times.  And in the field, he's played a Gold Glove-caliber right-field, and has the ability to play a solid center-field if you need it.  Like I said, Jayson Werth is awesome! 
Reason #2:  It's been well-documented that the Phillies have a lack of right-handed bats.  Their other three 30-home run guys of this year are all lefties.  Not only is Werth the only right-handed power hitter on the team, but he also crushes  left-handed pitching like few players I've ever seen, which is exactly what you want sandwiched in between guys like Howard and Ibanez.
Reason #3:  He's clutch.  He pounded seven homers in 51 AB's this postseason, and he hit .444 (8-18) with a homer and three doubles in the World Series against the Rays in 2008.  Have I mentioned that Jayson Werth is awesome?
Reason #4:  Although he's getting a big raise next year, a $7.5 mil. price tag (up from $2.5 mil.) is still a steal for what Werth gives you.
So, those are some very compelling reasons to NOT trade Werth.  Here are the reasons why the Phillies SHOULD trade Jayson Werth this off-season:
Reason #1:  Starting off with one of the weaker arguments: the payroll.  As Bry detailed a few days ago, the Phillies have a lot of players getting raises in 2010, and with all the talent they have assembled, it will take a ridiculous amount of money to keep all of the key players on this team here for the long-term.  It's not our money, but Ruben Amaro does have a budget, and every dollar spent in one place is one dollar less spent somewhere else.  Choices will have to be made about what players will get mega-contracts, and which ones won't.  Werth will be a free-agent after next year and, make no mistake, he will be looking for one of those mega-contracts if he does anything close to what he did this year.
Reason #2:  Even if they can find a way to keep all of the current core for the long-term, they'd be setting themselves up to have an old team in a few years.  When Spring Training starts in February, Victorino will be the only Phillie regular under 30, and he turns 29 in a couple weeks.  Could we be setting ourselves up for a repeat of what happened after the 1980 championship, when the Wheeze Kids won a pennant in '83, then the Phils spent the next decade in the basement?
Reason #3:  His value will never be higher.  As I've said, I don't think his production these last two years is a fluke, but that means that general managers around the league probably don't think it was either.  I'm pretty sure there are more than a few teams out there that would be interested in a five-tool player that can hit 35 homers.  Werth could be used to bolster the pitching staff, or to stock up with some more nice prospects to secure the future of the team.
Reason #4:  Michael Taylor (and Domonic Brown).  As we heard about plenty during the Roy Halladay negotiations this summer, the Phillies have two elite outfield prospects.  Taylor absolutely dominated AA in the first-half of '09, and then was rock solid at AAA in the second-half.  He's basically knocking down the door, and the Phils will need to find a spot for him sooner rather than later.  Obviously, he could eventually replace Ibanez in left-field, but the presence of Brown means that the Phillies might have to open up two outfield spots in the coming years.  Taylor could replace Werth in '10, and Brown could take over for Ibanez in '12.
Reason #5:  Adrian Beltre.  Obviously, the Phils want to set themselves up for a title next year, and while I think Taylor would be solid, you can't expect him to replace Werth's production in the line-up as a rookie.  That's why, if Werth is going to be traded, I think it's imperative that the Phils sign Beltre to play third.  Beltre is the youngest (30) of all the third-base options on the market, and he's also the best.  He might actually be an upgrade over Feliz defensively,  as he took the AL Gold Glove in '07 and '08.  He had an injury-plagued '09, but he was really consistent at the plate from '06-'08, with HR totals of 25, 26, and 25.  He was also playing in one of the best pitcher-parks in baseball.  Based on his road splits (which were not surprisingly much better than at home) and what it's like at the Bank, it's not hard to imagine Beltre duplicating Werth's production.  After all, we only have to look at Ibanez to see what can happen with the move from Safeco Park to the Bank.  So, Beltre could slot into Werth's 5-hole, and Taylor could hit 7th.
So, that's my case.  Tell me I'm crazy.