Two news stories broke yesterday that hit me pretty hard.  There is an outside chance that two of the most memorable Philadelphia athletes of my lifetime have each played their last professional sporting event.  So, for this week's edition of Tuesday's Top Twelve, I wanted to focus on the "most memorable" athletes of my lifetime. 
I know I was raised on stories of Johnny Callison home runs, Richie Ashburn bunts, Steve Carlton sliders, and Dick Allen's attitude problems.  So, for this list, I am using the criteria of "in 40 years, when I'm talking to my grandkids, which Philadelphia athletes am I most likely to talk about?" 
As always (and as necessary), there are a few limiting conditions to this list:
I am limiting it to Philadelphia athletes, so guys like Michael Jordan, Tiger Woods, and Ken Griffey Jr. are certainly going to be talked about, but won't be on this list.
I am limiting it to "my sports lifetime," which I often refer to and define, loosely, as 1990 and beyond.  I was born in 1979, so I do remember sports as far back as the mid-80's, but it's hard for me to remember really understanding sports prior to 1990 or so.  Because of this, guys like Dr. J and Ron Jaworski are not going to appear.  And, though it was really tough to do, I am sticking to the rules and eliminating Michael Jack Schmidt from eligibility because he retired in 1989.
This is not a list of the "best."  It is the most memorable, for whatever reason.  The guys that I will most likely tell stories about.
I am going to try and project careers, as much as possible, so it's not a "it their career ended today" kind of thing.  Obviously, I didn't go too crazy and even consider guys like Kyle Drabek or Michael Taylor, but I did try and make conservative estimations of where guys would stand when they decided to hang 'em up.
I am limiting it to "major sports," so there will be no lacrosse players, soccer players, or whatever that sport is called on ice that they only play in Canada and the Olympics.
And, as always, this has no science whatsoever, is totally based on one man's opinion, and I am very much open to arguments and debates–that what these lists are designed to create.
So, without further fanfare, let us get down to the list, starting with the honorable mentions:
Brian Dawkins – This was BY FAR the hardest omission to make from this list, and you can write it in stone that if this list had 13, he would be on it.  I have said many, many times that Brian Dawkins is my favorite all-time Eagle, and that there is something missing from the Eagles this year, and it is directly attributable to B-Dawk being elsewhere.  However, maybe it was the position he played or the all-business personality, but there is just something about him that never totally stood out–even to die-hard Eagles/Dawkins fans, like myself.  It is no slight on his play WHATSOEVER, and being #13 on this list is nothing to be ashmamed of.
Jameer Nelson – This was another tough omission and would easily be #14 if this list came out on Friday, and I used the alliteration of Friday's Fourteen or something.  But, we have to stick to our guns and go with twelve, right?  Anyway, even as a St. Joe's hater, I would not bat an eye and say that Jameer Nelson is the best Big 5 player I have ever seen in my 20+ years of watching the Big 5 closely.  And, that includes all those vaunted "city" teams that happen to play on the Main Line.
Jimmy Rollins – Again, real tough, but I think when it's all said and done, there will be four or five guys from his own team that will be mentioned, in memorial of the title, before J-Roll.  Again, this takes nothing away from his importance or ability.  And, if you had told me two years ago that we would win a title in 2008 and J-Roll wouldn't be the most memorable player from that run, I would have told you you were crazy, but it's true.
Curt Schilling – Amazingly memorable performances.  Amazingly memorable personality (and not in a totally positive way).  Amazingly forgettable teams, with one large exception.  In the end, I just kind of want to forget that Schilling ever really existed, though somehow I don't think I'll be able to do that.
DeSean Jackson – In only his second year, it was really difficult to even consider him.  And, even if he hits his absolute ceiling (which is incredibly high), he might not crack the Top 12.  But, with the one and a half seasons he has put in so far and his brash style, he's got a shot to be one of the all-time memorable Eagles.
Terrell Owens – Speaking of brash style, TO actually came very close to making this list because, like him or hate him, can you imagine ever really forgetting about TO?  I can't.
Mark Macon – The only reason he is not on this list (and probably top 3) is because I am a stickler for "rules" and "conditions."  I said, myself, that I was starting in 1990, and though Macon graduated in 1991, his most memorable season was his freshman year in 1988.  But, just know, for certain, that my grandkids will be hearing about Mark Macon and the '88 Owls, who got hosed by the officials in the first official "Referees For Krzyzewski" campaign.
Other guys that got consideration, but did not crack the final list: 
Eric Allen, Dionte Christmas, Darren Daulton, Lynn Greer, Kerry Kittles, Cliff Lee, Andre Waters, Turk Wendell, and Mitch Williams.
And, without any more fanfare, here is what I came up with for the Top Twelve Most Memorable Philadelphia Athletes of My Lifetime
12). Brad Lidge.  There is absolutely no question that the 2008 World Series was the defining moment of my sports fandom.  And, the one image that I probably evoke multiple times every day is Brad Lidge falling to his knees after striking out Eric Hinske.  Throw in the fact that he had the "perfect season," and it would take about a hundred more 2009's for me not to be talking about Lidge's 2008 in forty years.  The only reason he is this far down is because there is really no way of knowing whether or not 2008 will the only memorable year for Lidge in Philadelphia.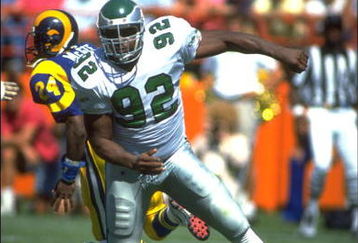 11). Reggie White.  I went back and forth about this one in my mind.  I left Dawkins out and put Reggie in because I think that the Eagles defense in the early 90's was not only slightly better than that of the 00's, but I think it was much more memorable.  And, with all due respect to Clyde Simmons, Eric Allen, Andre Waters, and that ESPN radio personality who was actually better than he lets on on the air, Reggie White is the guy we will most remember from that defense.  It did hurt me–a lot–the way he left and how he made post-Super Bowl comments about "forever being a Packer," but I have almost forgiven him.  And, he was (like Dawkins) one of the all-time best players to ever play his position.
10). John Kruk.  Now, I said above that the defining moment of my sports fandom was the 2008 World Series.  That is true.  However, my favorite and most memorable all-time team was, without a doubt, the '93 Phillies.  And, the one guy who I think symbolized it all was The Krukker.  He was a blue-collar guy on a blue-collar team.  He played the game like a child on a team full of children.  And, he showed up to the ballpark every day with a fierce desire to win on a team full of winners.  Not to mention the fact that the team that he (and Dutch) led was one of the most fun rides on which a baseball team has ever taken their fans.  It is hard for me to believe that there are nine guys more memorable than The Krukker, with all he has brought to my life.
9). Brian Westbrook.  This is one of the two news stories that broke within the past 48 hours that fostered the idea for this list.  When news broke that Westbrook had suffered another concussion during Sunday's loss to the Chargers, serious doubts arose as to whether or not he will ever play again.  That news hit me hard.  Has there been a better all-around Eagles player than Brian Westbrook?  Unfortunately, as Doogan always says, "staying healthy is a skill…and it may be the only one that Brian Westbrook doesn't have."  But, even though Westbrook has never played a full NFL season, he is still one of the most memorable Eagles of my lifetime.  I can just about guarantee that I will tell many, many stories about Brian Westbrook to my grandkids.  Every time I see a screen play, I will think of Westbrook.  Every time the Eagles are down one score late in the game, I will think of Westbrook's punt return to beat the Giants or his ridiculous touchdown that should have beaten Tampa Bay, if not for a miraculous 62-yard field goal.   Every time I foolishly make the claim that a good quarterback is always more important than a good running back, I will think of all the frustration we had to experience whenever Westbrook missed a game.  Overall, I hope that Westbrook makes the best decision for his future, but selfishly, I really hope that he is able to lace them up again in Eagles green.
8). Cole Hamels.  Here is where winning a championship comes into play.  The best month of my life featured a fresh-faced 25-year old playing a central role.  The NLCS and World Series MVP are enough to place Cole Hamels in memory forever.  No questions asked.  How high he ranks on this list, ultimately, will depend upon whether he can bounce back from a disappointing 2009.  I believe he can, but I'm not ready to place him higher than #8.  If I had made this list one year ago today, in trying to project the future, Cole may have cracked the top 2.  But, after his 2009 and the playoff meltdown (on the field and in the clubhouse), his 2008 performance may, in the end, have to stand on its own merit.  Fortunately, for Hamels' legacy, it stands quite high on its own.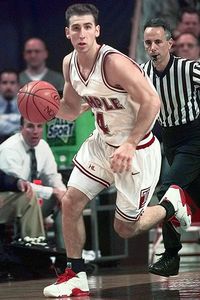 7). Juan "Pepe" Sanchez.  Yes, I know, this is the one that will make people go "WHAT?!?"  And, some of them may even go, "Who?"  But, this is my list, and there is no doubt that my grandkids are going to overrun with stories of Pepe Sanchez.  Not only is he the most memorable player on the best Temple team of this era, but he may also be the most unique player to ever play college basketball.  I have said time and time again that he is the best player in college basketball history to average fewer than 9 points per game.  He did it all, offensively, as a lanky, relatively unathletic point guard with no jump shot.  But, he was even more impressive on the other end as the all-important point man in the heralded Matchup Zone defense.  He played, probably, the most difficult and demanding defensive position in the nation, and he did it extraordinarily from the moment he stepped on to campus (playing 38 minutes/game, as a freshman).
6). Ryan Howard.  I am one of those that still isn't sure about the overall future of Ryan Howard.  Despite shedding a lot of the questions (and pounds) that surrounds his post-30 career, they still linger.  And, throw in the fact that, if he does continue to have monstrous seasons, the Phils may not be able to afford to keep him in pinstripes (at least red ones).  Furthermore, simply when you talk about the 2008 Phils, you think of leaders like Rollins and clutch performances like Hamels before you think of Howard.  But…chicks dig the long ball.  And, to be totally honest, no matter how much any of us claim to be baseball purists, who love the "little things," what do we really remember?  We remember bombs.  And, Howard has hit so many bombs in only four years (a historic amount, actually), that there is no way Ryan Howard will ever be forgotten.  Hamels may have the hardware.  Lidge may have "the moment."  But, Ryan Howard may be the most memorable, when it's all said and done, because of his absolutely astonishing power.
5). Charles Barkley.  The combination of his play and his personality make Sir Charles one of the most memorable figures in NBA history, let alone Sixers history.  Though he was traded away in 1992, he is still a monumental figure in Philly sports history.  Though he never brought the Sixers a title, he still made is mark on the league.  Charles is the best inch-for-inch rebounder of all-time (and pound-for-pound the greatest NBA analyst), Charles has as strong a personality as he does a physique.  And, the total package is something that will be remembered and generations yet unborn will be regaled with Barkley stories like "Charles, as a member of the original Dream Team, what do you know about your first Olympic opponent, Angola?"  "I know they're gonna lose."
4). Donovan McNabb.  I am not trying to refire the eternal Philadelphia debate surrounding our smiling quarterback.  All I am doing here is saying that, no matter what happens, Donovan McNabb is going to be remembered and discussed for generations.  As a Donovan backer, I think that he will go down as the greatest Super Bowl Era quarterback in Eagles history, but even the bashers have to admit the simple facts that he has been at the helm during the most successful runs one franchise has had in the NFL.  Donovan has created so many big moments that it is easy to talk about the times he has failed in a big spot, but no matter the outcome, big moments are historical and memorable, and Donovan McNabb is going to be the topic of quite a few conversations years after the green #5 is no longer worn on the field of play.  Surprisingly, though, after just going on and on about him being the best Eagles quarterback ever, he, somehow, is not even the most memorable of the past 20 years.  It's Bobby Hoying.  No, just kidding, it is…
3). Randall Cunningham.  "The Ultimate Weapon."  Randall didn't have nearly the success of Donovan, and honestly, it's a very far-fetched argument to say he was even close to as good of a quarterback.  However, we are not debating ability or success (though they play huge factors), we are debating memorability.  And, if there was only one football player that I know, for a fact, that I will be talking about in forty years, it is Randall Cunningham.  The things he could do on a football field, from doing a cartwheel over a defender into the end zone to being undercut but keeping his balance and throwing a touchdown to kicking the longest punt in NFL history, the guy could do it all.  He was as entertaining as an athlete has been, and he was ours.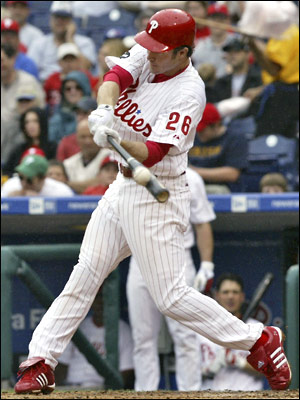 2). Chase Utley.  Now, I may be crazy with this choice, but I don't think it's even debatable.  I think a conservative projection for the rest of Chase's career is the best secondbaseman of his generation.  He is still only 30 years old, and he already has been to four All-Star games and won four Silver Slugger awards.  He has the second highest OPS in history for a secondbaseman (behind only Rogers Hornsby), and he already has 6 World Series home runs (surpassed by only 12 players in MLB history, and only 3 non-Yankees–Hall of Famers Duke Snider, Frank Robinson, and Goose Goslin).  A slightly less conservative projection has Chase Utley being elected to the baseball Hall of Fame, winning multiple World Series titles, and playing his entire career for the Phillies (he's currently signed long-term).  Oh, and by the way, he plays every game exactly how the game ought to be played–hard, clean, intense, and completely and totally unselfish.  Chase Utley may be to Philadelphia what Brooks Robinson is to Baltimore or maybe even what Ted Williams is to Boston.  And, if all else fails, we will always remember "Chase, you are the man!"
1). Allen Iverson.  This is the other news story acting as the impetus to this list.  The Grizzlies came to an agreement with AI to part ways.  I believe that Iverson will find his way on to the bench of a contender somewhere (Cleveland could be a great fit), but there is a chance that we may never see Allen Iverson in an NBA uniform again.  And, to me, that is incredibly sad.  Obviously, we have had some time to come to grips with the fact that he doesn't play in our city any more, but he has left such an enduring legacy with me, that he will never leave.  Yes, he is rough around the edges at times, and, yes, he openly disliked practice (cue the overplayed soundbite), but when the lights were on, AI showed up.  He left absolutely everything out on the court, whether it was the NBA Finals or a relatively meaningless December road game.  Yes, he can be criticized for taking too many shots, but it was not because he was a selfish player.  He just thought, correctly at times, that him shooting 30 times gave the team the best chance to win on any given night.  And, oh my, what highlights he created.  This guy was, literally 5'10", 160 pounds, and he was fearless.  His body took such a beating and he just kept coming back for more.  But, the most underrated part of the life of Allen Iverson is just how incredibly intelligent and self-reflective he was.  He was an absolute joy to listen to because he was so brutally honest about himself and what was going on.  If you could look past the tattoos and the lack of use of The King's English, you could really look into what was going on with him both on and off the court.  He never held back, and he was innately intelligent and insightful enough to verbalize it.  He is one of the most remarkable players I have ever witnessed, but he also combined that with an almost subconscious ability to let the fans in on what it was like to be a superstar athlete.  He was one of those players that reminded us that these games are being played by human beings.  So, not to borrow someone else's tagline, but AI has played his last professional game, you can consider me a witness.