I know that all we can think or talk about these days is Roy Halladay (ya, me too), but the Eagles started training camp yesterday, and let us not forget that this team is one of the clear favorites in the NFC this year.  It is a real testament to the Phils and what they have done that the city has almost forgotten about the Birds.  Any other year and Eagles training camp blows away the dog days of the Phillies summer.  But, with the combination of a title defense, a 6-game lead, and legit trade deadline drama, the Eagles are the city's forgotten team.  I'm not complaining at all; I just want to put a little of this blog's focus away from Halladay for a second and think football briefly.
So, here are the Top Twelve Questions Facing the Eagles This Season
12). What negative effects (if any) will the fact that Jeremy Maclin remains unsigned entering training camp have on the season?  Here on the morning of Day Two this is the #12 question.  If he remains unsigned on the morning of Day Ten, then maybe this question becomes higher on the list.  No matter what, any practice lost by a rookie wide receiver in a complicated offense is going to hurt his progression.  I think the answer to this will have just about everything to do with the answer to another question on this list, and I will give you a hint–it has something to do with guys named Curtis and Jackson.  I think that if the Eagles have to lean on Maclin in the early going, then that is a sign of a bigger problem and probably won't be impacted by the time he misses or doesn't miss in training camp.  Either way, I would like to see him sign a deal and get out on the field.
11). Did the Eagles hit any home runs in the later rounds?  Everyone is so excited about the Birds late-round picks.  Cornelius Ingram is a superior athlete at the tight end position.  Can he contribute?  "Macho" Harris is supposedly a phenomenal athlete who can play both corner and safety.  What will he bring to the team?  Apparently, there is an undrafted free agent, Marcus Mailei–a fullback from Weber St.–who has a legit shot at making this team (though, I'm not sure why they would need two fullbacks, considering they had none a year ago).  If either Ingram or Harris pan out and pay immediate dividends, then this draft may end up being one of the better drafts under Reid.
10). How much of an impact will having a true fullback have on the offense?  Honestly, if I were to handicap this question, I would say "a lot."  Now, this is all dependent (as is pretty much everything) on the health of one star running back, but I really think that the running game (and the passing game, for that matter) was hampered by a clear lack of a fullback.  Leonard Weaver is a true, pure, in-your-face, blocking fullback.  He will run headfirst into the line and will sit back and protect McNabb in the passing game.
9). The receiving corps?  I think the fact that this question is only #9 says one of two things:  (1) the receiving issues that have plagued this team for a decade (save for one Super Bowl season) have at least subsided a bit, or (2) Yours Truly grossly overestimates the abilities of DeSean Jackson and Kevin Curtis.  I think Curtis is a pretty good #2 when healthy, and I think I am sold on Jackson.  This is never going to be the 49ers of the '90's, but with a healthy Westbrook as basically your #1 receiver, all of a sudden a Jackson and Curtis wideout pair looks pretty effective and productive.  And, I have learned not to count on anything from Jason Avant or Hank Baskett (which is good because we will probably get as much from them as we do from Greg Lewis, who is on the Patriots).
8). How good is this division?  As great as it is to puff out your chest to other teams' fans and say "Yeah, but my team plays in the best division in football," it still causes some issues.  A few slip-ups or a month without either Westbrook or McNabb and this division could eat us up and spit out a 7-9 or 8-8 team.  I still think Eli Manning has become the league's most overrated quarterback (if anyone listens to the Football Today podcast on ESPN, you would have heard a disgustingly ridiculous debate about who is better Manning or Phillip Rivers–that's like saying who is better Roy Oswalt or Joba Chamberlain, come on, people), but the Giants are still a serious contender.  The Cowboys may be a notch below, but still have immense talent.  And, the Redskins added the best defensive player in the league to a team that went 8-8 in the game's best division last year.  The problem with playing the NFC Beast is that you are guaranteed six incredibly physical, emotional games every year, and because of that each of the four of us are just a bad call or a minor injury away from 8-8.
7). How will Sheldon Brown's malcontentment affect the team?  I would like to think that the answer to this question is "not much," but the question still needs to be asked.  In fact, maybe it should be reworded because I do not think that his malcontentment will affect the team, but if he ends up traded or sulking on the sidelines (a la Lito Sheppard) and the Eagles have to lean on the talented yet unpredictable Ellis Hobbs as its #2 corner, who knows what might happen when they bring the blitzes.  So, the question here really is–will Sheldon Brown play and play effectively, and if not, can Ellis Hobbs, et al, make up for the loss of a Pro Bowl corner?
6). Will this brand-new offensive line be as good as advertised?  On paper, this O-line looks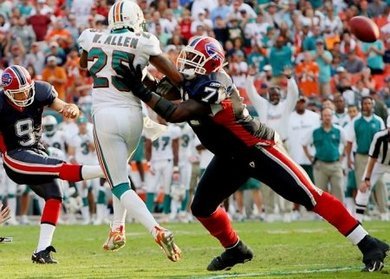 ferocious.  We have already forgotten Thomas and Runyan because of Jason Peters and the Andrews brothers.  But, are we over-confident in this group?  Jason Peters did give up 11.5 sacks last year, according to the people who track these things.  Stacy Andrews gave up something like 9.5, and Shawn Andrews has never played tackle in the NFL.  So, two brand-new tackles and a new right guard.  It's exciting, but a bit worrisome, at the same time.  Plus, think about this for a second.  The Birds have 6 games with the NFC East.  The Giants had, arguably, the best D-line in football last year without Osi Umenyiora.  The Redskins added the game's premier defensive tackle to an already solid D-line.  And, the Cowboys have DeMarcus Ware–the NFL's leader in sacks last year.  So…needless to say, a strong O-line in the NFC Beast is essential.
5). Can the Eagles finally score consistently in the red zone?  Last year, they set a franchise record in points scored (pretty unbelievable, if you think about it, because never once did I say to myself "Wow, this is an amazing offense!"), but they were 24th in points in the red zone.  That is incredibly alarming, if you ask me, because playoff games and big games down the stretch are won inside the 20's.  This team has to score in the red zone to be effective.  And, I'm not too sure that they have addressed this problem.  Maybe Leonard Weaver will allow them to run on short-yardage and score from inside the 5.  Maybe Cornelius Ingram will blossom into the red zone threat that his size and athleticism dictate that he ought to be.  Maybe these things just even out and we're making more of a big deal about it than it is worth.  Maybe…
4). Who is going to step up and fill the emotional vacuum left by Brian Dawkins?  This one is big, I think.  But, in swallowing my borderline man-crush on Brian Dawkins, I actually have complete trust in the Eagles brass to understand when to move on, no matter how crushing it may seem.  Granted, I think that they should have been a little more open to this one guy, but still, they were right on Troy Vincent, Bobby Taylor, Jeremiah Trotter and Michael Lewis.  So, because of that, I am not all that concerned with the on-the-field loss of the best free safety of his era.  What I am concerned with is the lockerroom loss of possibly the best leader of his era.  Where will the Eagles get leadership?  Where will they get emotion?  Who will become the ultimate go-to guy in the locker room and on the field?
3). Donovan McNabb?  Maybe.  Maybe, he will become the leader everyone always thought he should be.  Maybe, in his older age with his football mortality obvious, he will step up and be the step-on-your-throat kind of athlete that wins championships.  Maybe he will keep his (in)famous smile from Monday to Saturday, but on Sunday be a gladiator.  Regardless of his leadership, all I want from a quarterback that I have tirelessly defended is consistency.  At 32 years old, I just want Donovan McNabb to show up as a similar quarterback week-to-week.  I do not want anyone else under center for many years.  What I do want is the best of Donovan McNabb every week, and at this point in his career, that is not too much to ask for.
2). Is Brian Westbrook going to be healthy?  What role can LeSean McCoy play?  This is
really question #1A because without Westbrook, this team is not anywhere near legitimate Super Bowl contention.  All indications are that he will be healthy, but for how long?  He will probably not play 16 games this year, but will it be closer to 10 or 14?  And, in those games without Westbrook, can LeSean McCoy carry the load?  Will he even know the offense?  Can he pick up blitzes in the NFL?  If Westbrook cannot play Week One, can LeSean McCoy lead the Eagles to victory right away?  Who knows.  That is the question.  Personally, I think it is borderline ridiculous that the Eagles have not signed Edgerrin James or Warrick Dunn or someone of that ilk to come into training camp.  Have we not learned from the last two years that you just cannot enter a season missing something?  Two years ago, the Birds entered the season without a punt returner and it cost them Week 1's game against Green Bay.  Last year, they entered the season without a fullback–and they never truly recovered.  Is veteran running back what they won't have this year?  This is especially mind-bloggling considering the fact that Westbrook is questionable to play Week One, and the only other backs are Lorenzo Booker and the rookie McCoy.  Now, I think think McCoy is going to be a fantastic back in this league, but right away?  And, I do, for some strange reason, have some belief in Lorenzo Booker, but there is nothing on which I can base that.  Warrick Dunn and Edge James are out there just waiting for a contract offer.  Go get one!
1). Just how important is Jim Johnson?  As important as Westbrook is–and he is of ultimate importance–there is no way that the Eagles would have had the success they had without Jim Johnson.  I would argue with anyone that Jimmy Johnson has been, by far, the most important factor in the decade-long success that the Eagles have had.  More than Andy Reid; more than McNabb; more than Westbrook; more than Dawkins.  Now, maybe Sean McDermott, who has been groomed for this job basically since he could walk and has trained under Johnson for several years, will be a great defensive coordinator, but there will never be another Jim Johnson.  Maybe this team will be just as prepared at kickoff (I doubt it because Johnson is one of the most innovative creators of the blitz the game has ever seen), but will McDermott be able to make the halftime adjustments for which Johnson is so famous?  I know it might be overstated, but it's worth mentioning that one of the only two games that the Eagles defense failed to adjust last year (the other was Week Two against Dallas, but that was a crazy game with several defensive injuries) was the NFC Championship Game, where Johnson was NOT on the sidelines.  I am not saying that that is why, I'm just throwing it out there.  I think there is no doubt that the Eagles defensive coordinator position is the one position with the most question marks entering what could be a magical season for the Birds.
ps…I wrote this column before the news broke about the great Jim Johnson.  May he rest in peace…